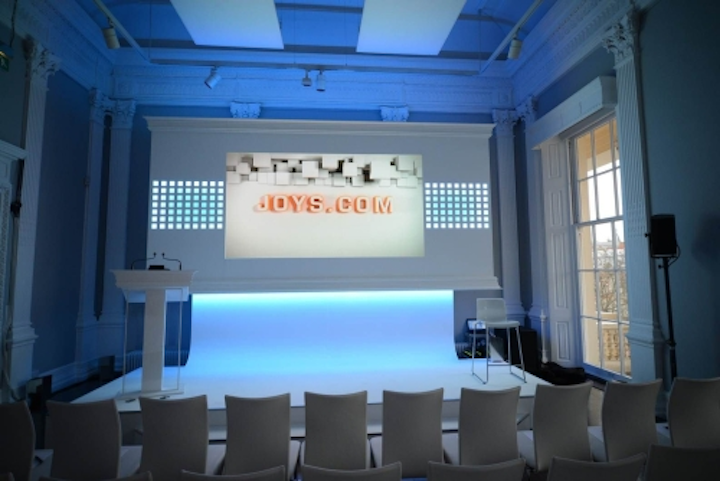 Reading, UK -- Trade-only AV specialists PSCo have announced the first UK rental install using 1.9mm pixel pitch LED technology. PSCo provided trade partner Joy's Production Services with a bespoke rental package for a recent event, including recommending and providing a 2.8 x 1.5 m super high resolution LED display (7 x 5 tile) and a full range of professional support services. Joy's chose this innovative display technology for its truly seamless appearance and high brightness, making it an ideal medium for delivering powerful, uninterrupted, animated presentations during live productions and events.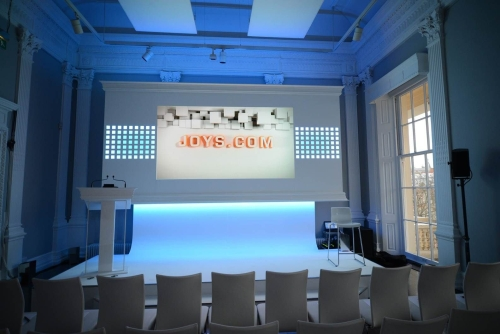 PSCo and Joy's complete event graphics display project with first 1.9-mm LED display rental in the UK

"After initially seeing the technology in action at the PSCo LED Experience launch event in November, we were looking for the right project to utilise this technology," said Peter Joy, Managing Director at Joy's. "We'd never considered LED in the past, simply because we hadn't been able to access such a small pixel pitch LED in the UK. PSCo are experts when it comes to rental display technologies, with the skills and experience to help remove any risk in adoption of this new technology. We trust them completely to help create inspiring environments for our end clients."

PSCo worked closely with Joy's specialist production team to assess the suitability of LED for this specific project. The full LED range was considered and tests were conducted with Joy's state-of-the-art graphics software to ensure smooth operation on the day. PSCo technicians provided dedicated support throughout, encompassing set-up and de-rig, as well as logistics and on-site technical assistance during the event.

The chosen 1.9mm LED rental display was built into a purposely constructed set featuring an elegant white frame and stand with chequerboard effect side lighting and mood lighting underneath. The content was created using Joy's real-time graphics system, enabling the end client to break the barriers of traditional presentations with dynamic, data-driven graphics running up to 60fps at full-HD resolution. The 1.9mm LED provided a truly seamless solution to deliver this flexible, non-linear style of presentation. It also offered super high refresh rates for consistent moving images and performed exceptionally under high ambient lighting conditions in the room with superior viewing distance and colour uniformity.

"This is a real landmark project for us since it's the first 1.9mm LED rental in the UK," said Stuart Holmes, PSCo's CEO. "There's a huge buzz around LED right now, but where we stand out is with our ability to not only source the best technology, but offer full UK on-site services and warranties on all our products, removing any concerns or possible setbacks for our trade partners, and ensuring their projects are a success."

PSCo's portfolio of super high resolution LED includes a range from 1.9mm-3.9mm pixel pitch. Book a visit to PSCo's Reading Assessment Centre by calling a member of the team on 0118 372 3300.

Photo: The 1.9mm LED delivers powerful, uninterrupted, animated presentations during live productions and events.

To find out more about Joy's real-time animation system, please visit www.joys.com.

About PSCo
PSCo focuses on delivering the latest and most innovative visual solutions to the trade, through PSCo Rental, PSCo Technical Distribution and Nearly New AV. With over 15 years' experience in large format and video wall displays, and strong relationships with the industry's leading manufacturers, the company is able to offer exclusive packages to its channel partners.

PSCo Rental offers the most innovative display technology at best-in-market prices exclusively to the trade. Its newly launched PSCo Rental Plus packages encompass the full offering, including the latest displays, technical support and logistics.

PSCo Technical Distribution focuses on delivering the complete solution to channel partners from specification through to handover with Technical Assistance services. Once the project is completed the company is able to offer Technical Assurance, an exclusive offering to channel partners encompassing an experienced service team, warranty extensions and authorised repair centre.

Nearly New AV offers trade customers access to the latest AV equipment for a fraction of the cost if bought new. Strong relationships with leading manufacturers ensure access to equipment normally unavailable.

The company's portfolio is available to view and test at the Assessment Centre in Reading with an experienced team on hand to offer technical advice and recommendations.
Contact:

PSCo
+44-0118-372-3300
E-mail:

Web site:

www.psco.co.uk

Submit new products, case studies/projects, and other press releases at http://www.ledsmagazine.com/content/leds/en/addcontent.html and http://www.ledsmagazine.com/content/leds/en/iif/add.html.