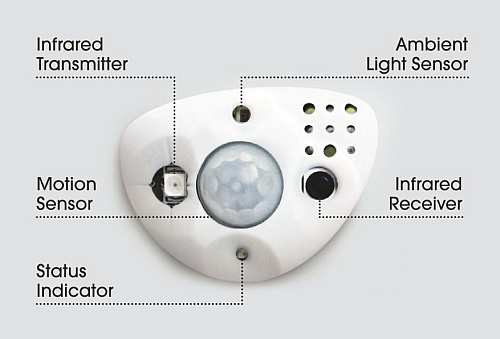 Disruptive lighting technology will change the future of lighting

Organic Response demonstrates lighting future

A matchbox sized Sensor Node that will change the future of lighting and revolutionise how we use, monitor and save energy in buildings throughout the world, will be displayed at Light + Building this weekend in Frankfurt.

Multiple award winner Organic Response is a disruptive technology threatening the future of traditional control systems and fueling imitation by new entrants to the autonomous lighting controls market.

Organic Response is the only lighting control system built entirely on distributed intelligence (see short video organicresponse.com.au) that is inspired by the behavior of schooling fish. This unique architecture enables incredible simplicity of installation and operation, yet delivers superior energy savings and occupancy comfort.

The core technology is the Sensor Node, which is integrated into light fittings during their manufacture. Importantly, NO additional wiring or commissioning is required during site installation – the Sensor Nodes start working the moment the light is connected to mains power.

Havells Concord OfficeLyte Organic Response Enabled luminaire has just won the 2014 Lighting Design Award in the Lighting Controls section is on display at Light + Building 2014.

Each Sensor Node (with motion & ambient light sensors, infrared receiver and infrared transmitter) adjusts its light's output based on occupancy behavior and ambient light, and shares this information - using wireless infrared communication - with its neighbours so that they determine their own optimised light level. Whilst each light makes decisions individually, "distributed intelligence" communication means they all act together to deliver industry leading energy savings and occupant comfort.

Organic Response CEO Mr Chris Duffield said Organic Response represented the first wave of new Distributed Intelligence lighting technology that will make the complex lighting management systems in modern commercial buildings redundant.

"It is the start of a global roll out of the technology that can be cheaply fitted to any new or existing building in the world that has an electricity supply and an electrician to install the fittings," he said.

The Havells-Sylvania luminaires will be among the first of dozens of new models and styles to be rolled out by European and Asia Pacific partners through 2014-2015.

Mr Duffield said the integrated luminaires have been trialed extensively with remarkable results, including energy savings of up to 85% and payback periods of as little as 3 years, proving themselves to be simple to install and cost effective to operate.

"There is no need for bespoke design, additional wiring and expensive and cumbersome commissioning. It is a "plug and play" lighting technology that provides amazing power savings yet it can be controlled by an app on your iPhone," he said.

There is also the potential to contribute to even greater efficiency within the built environment through the exploitation of what Organic Response calls the Occupancy Information Cloud (OIC) – the continuous stream of real time, location specific, occupancy information being generated by the system in response to occupants.

"This information is very valuable to other building managements systems (e.g. HVAC, lift management, security, etc) who can use it to make more intelligent decisions about their own operation, thereby reducing energy consumption even further", Duffield said.

TO SEE THE TECHNOLOGY
Organic Response technology will be part of the Havells Sylvania stand in Hall 6.2, Stand C04. Havells Sylvania is one of Organic Response's Strategic Technology Alliance partners in the UK & Europe.

Organic Response has won several ICT iAwards including best Start-Up and the Inspiration Award for most promising innovation. The Company represented Australia in the Asia Pacific ICT Awards – APICTA. Following its win in the Australian Cleantech Competition, the company represented Australia at the World Cleantech Competition in Silicon Valley in November 2013.


Contact:

Jan Jansen, Senior VP Europe - Organic Response
+31-20 893-4149

E-mail:

Jan.jansen@organicresponse.com.au


Web site: