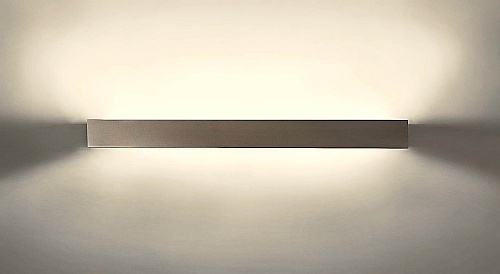 New Product Introduction: Axial -- Designed for a-light new "Elements" clean, discrete and simplistic product line, this wall-mounted, direct/indirect provides effective and substantial asymmetric LED lighting in an architecturally designed housing. Made of 60% recycled material, Axial employs long-life, white LEDs for maximum energy conservation.

Design: Justin Horvath and the a-light lighting design and engineering team.

Manufacturer: a-light -- a division of AmerillumBrands.

Product Applications: Axial is well suited for a broad range of wall-mounted commercial, institutional, light industrial, municipal, and even upscale residential environments.

These include clinics, hospitals, laboratories and physician offices; libraries, museums and galleries; corporate offices, corridors, conference rooms, reception areas; hospitality, club and casino installations; schools and universities; retail, entertainment and themed venues; apartment and condominium complexes; shopping malls; sports arenas and stadiums; transportation terminals, architecturally-conscious interior atriums and the like. Wherever the need for non-glare high-performance coincides with integrated, creative architectural lighting design; energy conservation; and very long operating life with negligible maintenance.

Product Description: Axial is a low-scale, minimalist, linear wall-mounted luminaire, appearing as a narrow 4-3/4" high x 3-3/4" wide rectilinear housing. An elegant fascia shields the front of the fixture and allows direct, as well as indirect illumination. The fascia is placed flush to the housing top and extends beneath by 1-1/4", shielding the lower lens. A 1-1/2" aperture, both above and below, produces non-glare wide asymmetric LED distribution. The substantial coverage resulting from such a small-aperture fixture was engineered using exclusive reflector design and LED placement techniques.

Axial is offered in an energy-saving 10 or 20 watts per linear foot, with 1200 or 2400 lumens per linear foot resulting, respectively. The Axial offers an architecturally refined design, powered by a highly efficient LED source with significantly wide distribution levels and a multitude of distribution options with twelve lens combinations and four upper/lower, standard/high output options available.
Lens and Illumination: a-light offers flat lay-in lensing both up and down: choose an open housing, clear dust cover lens, a-cirrus™ opal or HTLO™ linear patterned lensing. The HTLO™ optic is recommended for LED as a high transmission (93%) linear patterned lens, beautifully blending LED diodes together for even light distribution and a silken crystalline appearance. A diffuse opal acrylic a-cirrus™ lens creates soft illumination from below and maintains a very high light output at 65% while obfuscating diode images.

An elegant 4-3/4" fascia conceals the front of the 3-1/2" high body. The fascia is placed flush to the housing top and extends below it by 1-1/4", shielding the lower lens from below. The 1/4" thick fascia may be specified as flush to the fixture end or it may overhang past the housing end, extending an additional 2-1/4" per side. The edge of the overhang may be specified as squared off or with a radiused edge, depending upon the intended architectural appearance.

LED Options: LED light with a choice of options and outputs allows maximum lighting-design flexibility. Only high-performance diodes are used, made by well-known and trusted Nichia®, inventor of the white LED.

Two linear arrays of LED boards, one for uplight and one for downlight, provide a wide and substantial forward throw of illumination. The Axial is available with low or standard outputs: Standard output equals 1200 lumens at 10 watts per linear foot. High output equals 2400 lumens at 20 watts per linear foot. The Axial offers remarkably low energy consumption with considerably even illumination and precise cut-off in an architecturally designed product.

A precision-formed proprietary internal reflector design, and optimal LED spacing, units set new standards for even, high-efficiency, high-color rendition white-light distribution. Color temperatures are available in 3000K, 3500K or 4000K. Each luminaire contains an optical platform engineered for maximum light output and energy conservation. A precision-formed reflector design, unique light-spreading diffusers, and optimal diode spacing, minimize the typical "dot-dot-dot" appearance of LEDs while maximizing even light distribution, and sets new standards for even, white-light distribution.

Axial models operate on a 12V DC LED system, 120V to 277V universal voltage. All LED drivers are now Constant Current to reduce power consumption. Low temperature performance to -40°C. Zero to 10V dimming is inherent. Units comply with IES LM-79 and LM-80 performance standards. LED combination LED board/driver is rated for 60,000+ hours, has a 5-year factory warranty.

LED boards are designed and manufactured in-house using precisely-binned Nichia® diodes on high-quality, aluminum-clad boards designed for maximum heat dissipation. Appropriate thermal controls ensure proper fixture performance. Manufacture of a-light's own boards allows shorter lead times, superior quality control, greater cost-competitiveness, and provides flexibility to quickly update specifications based on new technology. All a-light luminaires and LED boards are Made in America, in the company's own modern plant.

Construction and Mounting: Axial fixture housings are 3-3/4" x 4-3/4" constructed from high quality 60% recycled aluminum extrusions. Precision-milled 3/8" thick, aluminum endcaps are applied. Fixture is ADA Compliant, protruding less than 4" from the wall. Fixture mounts via a simple, easy-to-install plate directly to wall. Power connects via BX or MX style wiring. Luminaires are available in 2ft., 3ft., 4ft., 8ft., 12ft., 16ft., 20ft. or 24ft. lengths.

Finishes: The Axial may be specified in a number of powdercoat finish colors: a-lightanium™ which is a warm, matte, metallic color, the color of titanium metal; satin white; or satin black. Custom powder coat colors may be specified. Axial is UL, CUL Damp Listed, Made in America, IES LM-79, LM-80.

a-light is a proud member of the AmerillumBrands, a manufacturer of specified contemporary, energy-efficient lighting brands.

Contact:
a-light
+1-760-727-6627
E-mail:
Web site: