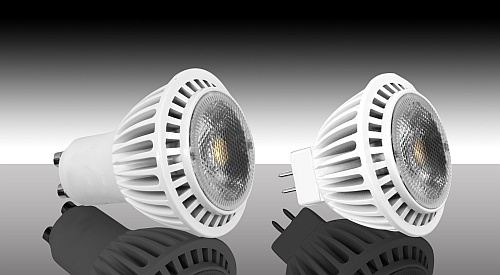 West Caldwell, New Jersey -- Spiraling energy costs and continuous re-lamping maintenance vanquish into green as MaxLite® unveils energy-efficient LED upgrades to shelve halogen MR16 lamps forever. MaxLite introduces five- and seven-watt MR16 LED Lamps in GU10 and GU5.3 bases. The LED GU5.3 MR16 lamp works on 12-volt systems, and the dimmable LED GU10 MR16 lamp operates on 120-volt systems.
Both lamps retrofit easily into miniature recessed, track and cabinet lighting fixtures for residential, commercial and institutional projects.
"MaxLite is excited to now offer a seven-watt LED MR16 that replaces a 50-watt halogen, the most common MR16 on the marketplace," said Product Marketing Manager Alex Truong. "The LED lamps save nearly 90 percent in energy costs, last 25 times longer, and deliver the diverse functionality that customers need in the marketplace."
The solid die-cast aluminum body features a specially designed heat sink to ensure a long L70-rated 25,000-hour life of cool operation, performance and high lumens. Both damp-listed LED MR16 lamps are designed with a compact form factor and offered in a warm white 2700K correlated color temperature (CCT), with a color rendering index (CRI) of 80 for general lighting applications. For retail displays and architectural applications requiring punch and color, a high 95 CRI is also available; these models are designed to meet the California Quality LED Lamp Specification.
For less demanding applications, MaxLite also offer an ENERGY STAR® qualified five-watt, GU5.3 base model that replaces a 30-watt halogen, and can be purchased with up to a $12.50 rebate from select utilities nationwide. The seven-watt model is engineered with an LM80-rated chip-on-board (COB) LED that offers a single point light source that delivers uniform color consistency. The lamp is offered in a 40-degree wide flood beam angle, and emits virtually no UV/IR rays, to avoid fading colors or inventory spoilage. The seven-watt model is expected to be listed on the ENERGY STAR list of qualified products in spring 2014.
To download the LED MR lamp data sheets, click http://www.maxlite.com/item/datasheet/?=SKMR1607LED27FL for the GU5.3 model, and http://www.maxlite.com/item/datasheet/?=SKMR1607GUDLED27FL for the GU10 model.
MaxLite offers a comprehensive line of LED replacement lamps as well as compact fluorescents (CFLs) and linear fluorescents.
About MaxLite
MaxLite has been committed to providing energy-efficient lighting products for the last 20-plus years, and was one of the first movers into LED technology in the industry. An ENERGY STAR® Partner of the Year, MaxLite established the MaxLED® brand, an extensive line of state-of-the-art indoor and outdoor lighting lamps and luminaires. Through MaxLite's innovative research and development capabilities in its California office and product assembly center in New Jersey, MaxLite continues to be at the forefront of energy-efficient technologies.

Contact:
MaxLite
+1-800-555-5629
E-mail:
Web site: