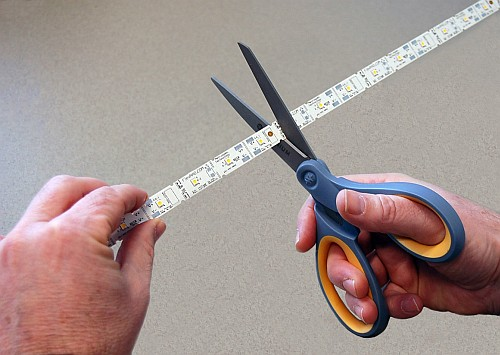 (St. Paul, MN) MetroSpec Technology announces FlexRad Cut2Fit™, its newest cuttable, high-output LED light source. Cut2Fit takes advantage of FlexRad's specialized ladder-parallel interconnect technology to maintain light level balance resulting in high color consistency without being constrained by length. Unlike other products on the market today, Cut2Fit enables variable fixture lengths customizable to less than one-inch increments. Cut2Fit permits light outputs to exceed 2,000 lumens per foot while maintaining excellent uniformity and dimming control.
MetroSpec's high-output FlexRad strips are seamless, eliminating connectors or wiring between circuit boards. "FlexRad is the perfect product for operations teams because it eliminates the need for fasteners, connectors, cables, sockets, and in some cases entire heat sinks. Cut2Fit dramatically simplifies and reduces manufacturing costs," states Curtis Romano, Vice President of Sales and Marketing.
With industry leading development timelines, production capability, and exceptionally fast delivery, MetroSpec is a proud partner to OEM manufacturers in meeting their specific, exacting specifications in order to help them win more projects.
About MetroSpec Technology
MetroSpec Technology is the leading manufacturer of privately labeled FlexRad™ LED light sources, exclusively for light fixture manufacturers. Its patented FlexRad LED technology provides customized solutions for architectural, commercial, industrial, retail, hospitality, outdoor, and signage manufacturing customers.


Contact:

Bobbi J. Jensen, director of marketing communications - MetroSpec Technology
+1-651-452-4800
E-mail:
Web site: