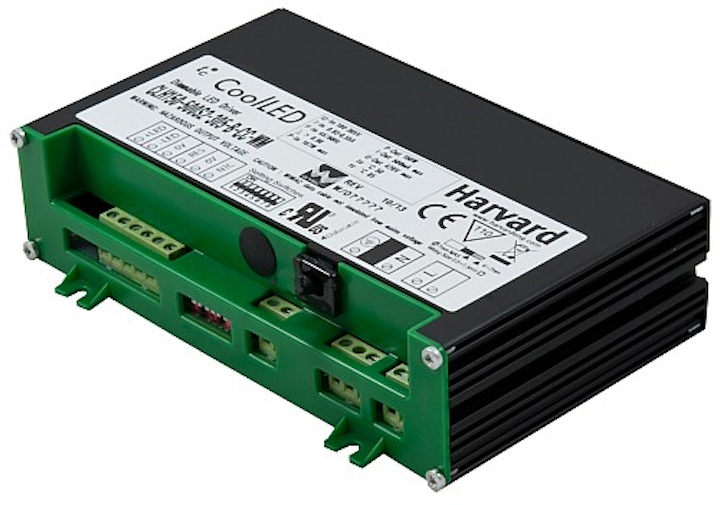 Harvard launches CLH high power driver
Harvard Engineering, manufacturer of world class energy saving lighting solutions including LED drivers, LED light engines and controls, has launched the first in a range of high power drivers specifically designed for ease of use in street lighting applications.
The CLH Single Channel driver offers up to 200W of power with simple resistive programmable drive current. The product can be easily programmed across a number of different current ranges, which means customers can standardize on a single compact driver reducing inventory and associated carrying costs.
High efficiency was also a focus in the design. The driver design was completed to be compliant with all 90%+ efficiency industry standards. It's flexible 120-277V universal input offers 91% efficiency at 120V and 93% at 277V, with 6kV surge protection. WiMAC compatibility comes as standard, making the CLH the ideal driver to be used alongside Harvard's market-leading LeafNut wireless monitoring and control system for street lighting.
Although designed for the street lighting market, the driver is perfect for all applications requiring a high power driver. An IP66 rated version is also available, providing customers with protection in wet environments.
Antony Corrie, Vice President of Harvard Engineering Americas, commented, "We designed the CLH driver to offer a high power solution with any drive current in one product. We also added an IP66 rated version so we could support any customer application requiring either dry or wet rating. Our customers can now standardize on a single compact driver which covers all of their needs and can be simply adapted in the field to set whatever drive current is preferred for their luminaire."
Harvard recently opened a new warehouse in New Jersey, in order to allow the company to deliver stock items, including the CLH driver, by ground delivery in five working days across the whole of North America.
For further information please contact
Alf Lombardi, Shrewdd Marketing
Telephone: +44 (0) 1422 363424
Mobile: +44 (0) 7879 634864
Email: alflombardi@shrewdd.com
Amelia Annakin,Shrewdd Marketing
Telephone: +44 (0) 1422 363424
Email: ameliaannakin@shrewdd.com
About Harvard Engineering:
Established in 1993, Harvard has grown to be a leading player in the LED lighting and wireless street lighting industries. Harvard's innovative range of products includes the CoolLED range of switchable drivers and LeafNut, the revolutionary wireless remote monitoring system for street lighting.
Awards:
2013 - Winner of Lux Magazine's Controls Innovation of the Year 2013
2012 - Winner of the Judges' Choice Award at the Mail on Sunday's Made in BritainAwards
2012 - Winner of Lux Magazine's Manufacturer of the Year Award
2012 - Shortlisted for the 3i International Growth Awards at the National Business Awards
2012 - Selected as a UK National Finalist for the European Business Awards 12/13
2011 - Winner of the Orange Innovation Award at the National Business Awards
2011 - Winner of the Innovation award at the Wakefield Express Business Awards
2011 - Winner of a Queen's Award for Enterprise, within the Innovation category
Contact:
Harvard Engineering plc - Tyler Close +44-0113-383-1000
E-mail:
Web site: