Heatron offers custom power solutions for high-power LED assemblies
Feb 21st, 2008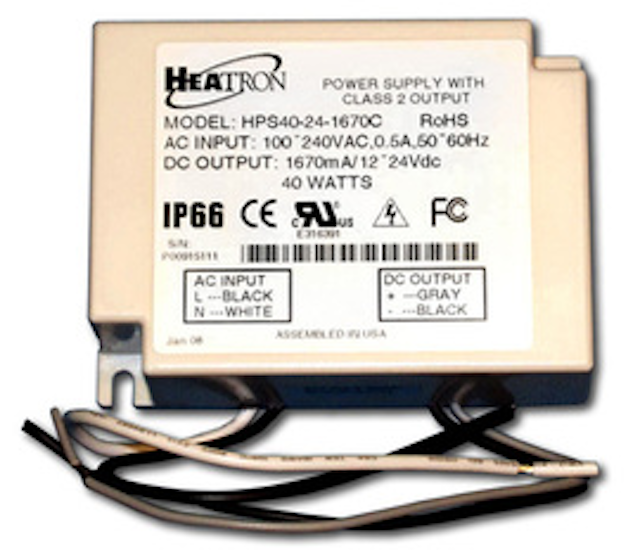 Date Announced: 21 Feb 2008
Leavenworth, Kansas -- Heatron is now offering custom power supplies (drivers) designed specifically to the requirements of high power LED assemblies. As part of Heatron's LED product design process, drivers are designed to match the exact power requirements of a fixture and eliminate safety and operational concerns caused by mismatched off-the-shelf solutions.
"Proper thermal management means that LED lumen maintenance and reliability are very high. The weakest link in the fixture design then becomes the driver. Drivers that are mismatched to the application yield low efficiency, power factor, overheat or simply fail to provide the appropriate output," Hank Zabawski, Heatron's Director of LED Technology, said.
"We have noticed a growing number of customers coming to us for a custom driver design after their products with off-the-shelf drivers have failed initial Underwriters Laboratory (UL), FCC emissions and/or Energy Star approvals."
The complexity of LED-based luminaires has steadily risen over the last couple years, with expectations to adhere to the same aesthetics and form-factor of current incandescent lighting often the paramount of concern.
"Although we like to start with a completely new product design from the ground up, the need to conform to the physical design of a fixture when creating a LED solution is a frequent customer request," Zabawski said.
"Most off-the-shelf drivers are designed to provide the industry with the most general solution and are not made to meet the most flexible of design requirements and fit within the smallest or most unique of packages."
Heatron's most recent driver was a designed replacement for a total of three independent drivers powering two LED populated metal core boards. Due to the configuration and compatibility of the independent drivers, overheating caused the assembly to fail UL testing.
Having integrated a single custom driver from Heatron to eliminate both the overheat concerns and form factor of redundant power supplies, this product design was then able to pass UL approval.
Heatron's LED Design Center, based in Chicago, is housed by a staff of Electrical, Optical, Mechanical and Industrial engineers. This staff, coupled with manufacturing facilities in Erie, PA and Leavenworth, KS, provides Heatron with the capabilities to provide customers with a range services from LED design consultation to complete assembly, and all steps between.
About Heatron,Inc.
Heatron is a global leader in custom-designed heating elements and related subassemblies for OEM products, as well as in the design and development of LED-based luminaires. A firm commitment to product and technical innovation, flexible design capabilities and advanced patented technologies, allow Heatron to provide a wide spectrum of customers with the ability to produce products that are highly reliable, extremely durable and aesthetically elegant.
Contact
Heatron, Inc., 3000 Wilson Avenue, Leavenworth, KS 66048, U.S.A. Tel. 913.651.4420 Fax: 913.651.5352
E-mail:sales1@heatron.com
Web Site:www.heatron.com