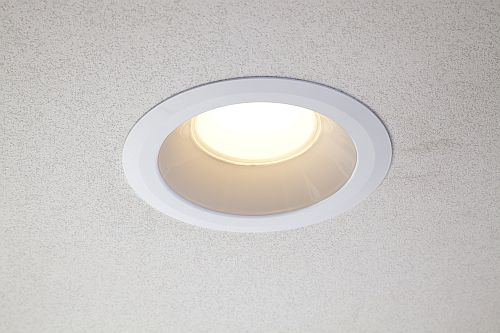 EAST CLEVELAND, Ohio -- (NYSE:GE) -- Maintaining the finely tuned aesthetics in retail, office and hospitality spaces while reaping energy savings has never been easier than with the Lumination™ RS Series LED DownLight from GE Lighting. With a variety of one-to-one replacement options for CFL, incandescent or halogen recessed cans, the RS Series offers clean design and simple installation for budget-conscious applications.
Delivering 700 fixture lumens at 70 lumens per watt, the RS Series DownLight provides significant energy savings to residential, light commercial and hospitality environments. With a sleek design offering beautiful, consistent color, the RS series is an ideal solution for boutique, restaurant, hotel or residential spaces to fit any budget.
GE's Lumination™ RS Series LED DownLight can offer easy-to-install retrofit solutions for your office, hospitality or retail space.
With contractor-grade options available, Lumination RS Series LED DownLights take just minutes to install in most six-inch recessed can housings, reducing labor expenses and saving time. Simply remove old bulbs, pull down the mounting plate with the socket attached, screw the new RS Series fixture into the socket, and slide it back into place.
With the inherent flexibility of LED lighting, the RS Series' 2700K and 3000K versions offer 80 CRI and a 35,000-hour rated lifetime for reduced energy and maintenance costs. Additionally, it provides superior dimming and control functionality.
"With its clean design and simple installation, the Lumination RS Series is an ideal solution for low-ceiling retrofits," said GE Indoor LED Fixture Product Manager John Koster. "Long life and reduced energy requirements make them the perfect choice for budget-conscious applications."
To learn more about LED lighting fixtures, including the DI Series and RI Series of the Lumination LED DownLights, visit www.gelighting.com. Read more about GE's commitment to innovative solutions to today's environmental challenges at www.ecomagination.com.
About GE Lighting
GE Lighting invents with the vigor of its founder Thomas Edison to develop energy-efficient solutions that change the way people light their world in commercial, industrial, municipal and residential settings. The business employs about 13,000 people in more than 100 countries, and sells products under the reveal® and Energy Smart® consumer brands, and Evolve™, GTx™, Immersion™, Infusion™, Lumination™, Albeo™ and Tetra® commercial brands, all trademarks of GE. GE works on things that matter to build a world that works better. For more information, visit www.gelighting.com.
50 Years of LED Innovation
Oct. 9, 1962, GE scientist Dr. Nick Holonyak, Jr., invented the first practical visible-spectrum light-emitting diode (LED). In the 50 years since, GE has been on the forefront of LED innovation. The company has released inspired LED products for both residential and commercial settings, from the first ENERGY STAR®-qualified A19-shaped LED bulb to LED street lighting that illuminates cityscapes the world over.
Contact:
GE Lighting
+1-216-266-2121
E-mail:
Web site: