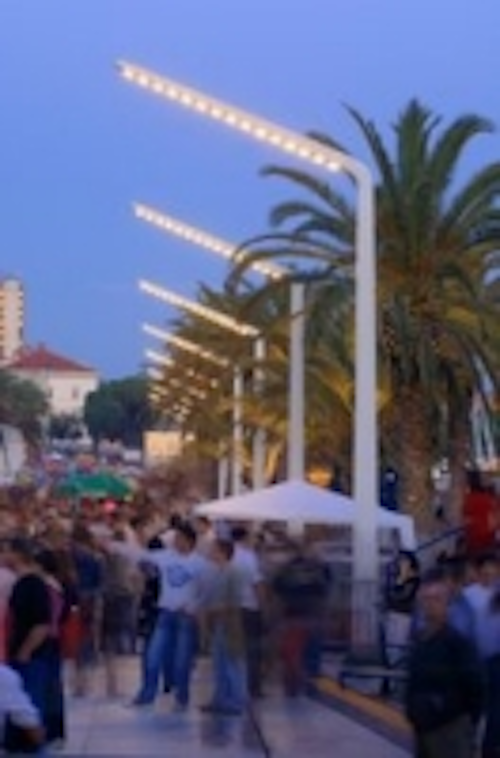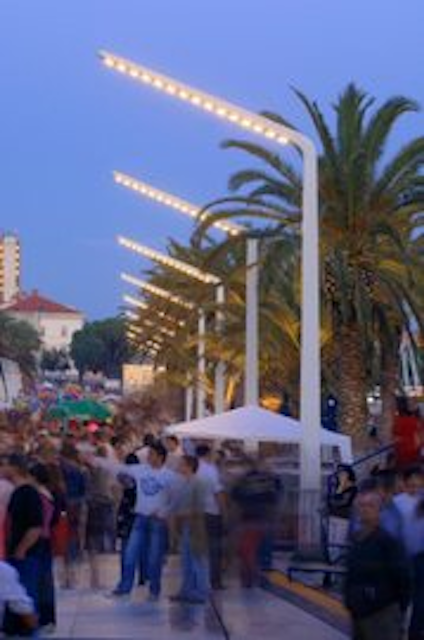 Date Announced: 27 Feb 2008
-- Company will use innovation and technical expertise demonstrated
with Cree on Croatia's Riviera
Chicago, Illinois--- Breaking new ground in urban lighting, Schréder Lighting USA is pioneering high-quality, performance-based Street Lighting using LEDs for the American specification market.
Schréder Lighting USA, the newest of the 40-member Schréder Group G.I.E. located in 36 countries on four continents, is marketing the Schréder brand in the fields of Public Lighting, Floodlighting, Tunnel/Transit Lighting, Industrial and Urban Lighting.
Schréder Group G.I.E. recently collaborated with Cree, Inc. (Nasdaq: CREE), a leader in solid-state lighting components, to illuminate the popular Riviera waterfront in Split, Croatia that is visited by millions of travelers annually. Delivering the photometric performance and visual comfort to overcome the challenges of urban applications, Schréder created elegant, custom-designed Streetlights featuring the warm, white glow of Cree XLamp®XR-E LEDs.
Schréder's appealing walkway luminaire incorporates 180 high-power XR-E LEDs, each producing up to 124 lumens at a remarkable 3,000K and leading the industry in brightness for warm-lighting applications.
Luc Coppers, Engineering Manager for Uitrusting Schréder Belgium, explained, "LEDs provide directional lighting, which requires extreme precision in orientation when used for urban lighting. This was the challenge that Schréder's designers and engineers solved by creating beautiful and functionally optimized fixtures for the waterfront promenade. The Cree XLamp XR-E is the only warm white-power LED with the performance characteristics that meet the brightness, color stability and uniformity requirements of this installation. Together we have created a stunning evening social destination, in just three months."
"Using the innovation and technical expertise demonstrated on this recent project," explained Mr. Rob Verbeelen, President of Schréder Lighting USA, "We are planning to initiate and implement high-quality, performance-based street lighting solutions using LEDs for the American specification market.
"For more than 80 years, the Schréder Group has been designing high performance lighting solutions aimed at improving comfort, safety, and aesthetic value of the outdoor and urban landscape. The Schréder Group takes pride in promoting its 'Partner in the City of Tomorrow' philosophy. Our products are developed to create atmosphere, optimize visual comfort, limit light pollution, and enhance the landscape."
About Schréder Group G.I.E.
Founded in 1927 in Belgium, Schréder Group G.I.E. is an international group that specializes in upscale, architectural outdoor lighting that is at the forefront of technological and aesthetic innovation. The members and affiliated companies of the Schréder Group share facilities and powerful tools for R&D, manufacturing, high-level photometric studies, and laboratory testing. Findings are made available to all companies in the Group.
Contact
Schréder Lighting LLC 985 Busse Road Elk Grove Village, IL 60007 Tel: 847.621.5100 Fax: 847.621.5121
E-mail:info@schreder.com
Web Site:www.schreder.com