Neo-Neon™ reports COB (chip-on-board) solid-state lighting array with 5500-lumen ouptut
Feb 18th, 2008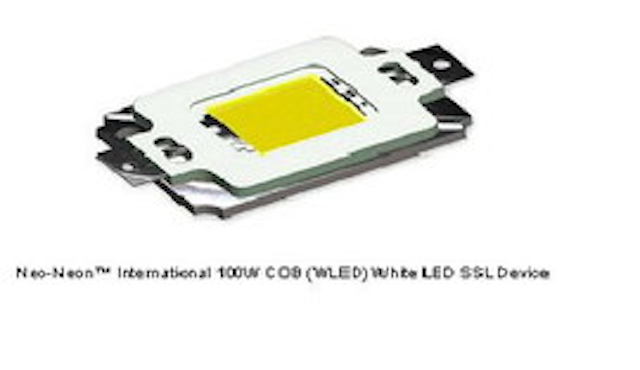 Date Announced: 18 Feb 2008
Hong Kong, P.R. China – Neo-Neon™ International Achieves Revolutionary Lumens Breakthrough in COB (Chip-On-Board) Solid-State Lighting. 5500Lm (Lumens)
Neo-Neon™ International a public listed company on the Hong Kong Stock Exchange (HKEX 1868) announces a revolutionary breakthrough in the development of core LED Technologies relative to solid-state lighting (SSL).
As a global leader in the advancement of LED technology Neo-Neon™ has invested considerable time, energy, and resources to meet the market demand for new high power applications of LED based SSL.
These efforts are being realized in many ways to include the introduction of this new core technology and technique. In January of 2008 we completed testing of our new 100W high power COB (Chip-On-Board) LED Module. Testing results have proven conclusively that this new 100W COB WLED (White LED) reaches new heights in lumens efficiency.
Part of the success of this new and exciting breakthrough stems from the structural design, the combination of a 10 x 8 array of 80pcs of LED chips, The array produces an output of 5,500 Lumens from an emitting area of just 1.9cm2. using an advanced re-flow process and precise constant current control.By Using silver epoxy,the heat dissipation can be solved quickly.Providing a powerful point source that can be easily manipulated optically to provide a range of lighting solutions.
Neo-Neon™ intends to deploy this new technology is a completely new range of products which opens up new markets for the application of LED as a replacement to high energy consuming incandescent and discharge lamps. These new markets that will benefit from this technology are stage, theatrical, architectural, general, and commercial illumination.
The Array will be in mass production by the end of February ,2008. This core technology and technique was developed to satisfy the growing global need for energy conservation which LED technology is poised to be tomorrow's solution today.
Contact
Contact Neo-Neon International Ltd Address Gong He Town, He Shan City, Guang Dong, China. Tel No. (86)750-8300941 Fax No. (86)750-8300940 Email sales@neo-neon.com
E-mail:america-a@neo-neon.com
Web Site:www.neo-neon.com