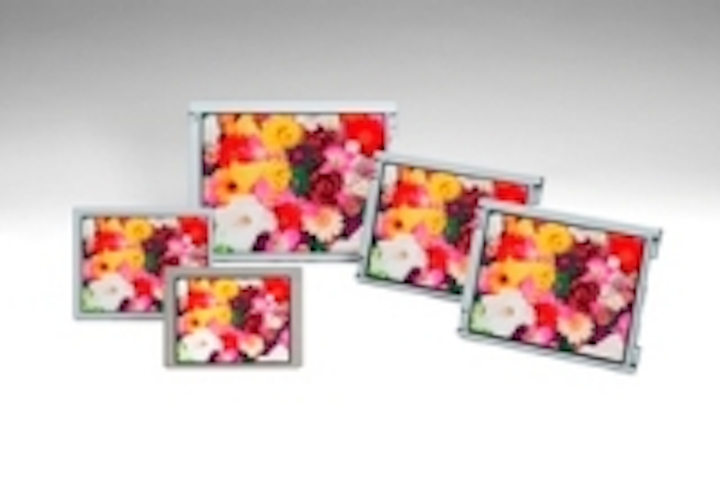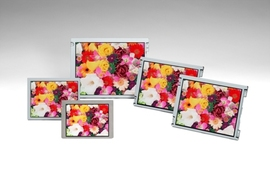 Date Announced: 14 May 2008
TFT LCD Modules Feature Replaceable LED Backlights, High Brightness and Low Power Consumption
Toshiba America Electronic Components, Inc. (TAEC)*, a committed industry leader that collaborates with customers to create breakthrough designs, today announced a new color active-matrix thin-film transistor (TFT) liquid crystal display (LCD) module product lineup for industrial applications that incorporates long-life light-emitting diode (LED) backlighting systems. Developed by Toshiba Matsushita Display Technology Co., Ltd. (TMD)**, the modules are designed to satisfy the requirements of a broad range of industrial applications, such as test and measuring equipment, medical equipment, portable handheld computing devices, and more, utilizing the latest LED backlighting technology.
The series includes five new LCD products: 5.7-inch QVGA 320 x 240, 6.5-inch VGA 640 x 480, 8.4-inch SVGA 800 x 600, 8.4-inch 1024 x 768, and 10.4-inch XGA 1024 x 768. All the products have replaceable, long-life, LED-based backlighting systems, and are designed such that a resistive touch panel can be added as an option.
"These new, leading-edge LED-backlit modules are an important addition to our line-up and address a growing demand in a wide variety of industrial LCD applications," said Sean Collins, vice president business development, Display Devices and Components Group, for TAEC. "TMD continues to demonstrate a long history and commitment to the industrial market by providing displays that feature high brightness, wide viewing angles, wide operating temperature ranges, and replaceable backlighting structures. The addition of these new LED long-life products will bring clear and further benefits to industrial system designers."
The LED-based backlighting systems provide an average backlight lifetime of 70,000 hours, or approximately 8 years continuous operation, (to half-brightness of the initial luminance specification), which exceeds that of today's common TFT LCDs for industrial applications utilizing long-life cold cathode fluorescent lamp (CCFL) backlighting systems. TMD has achieved this by applying long-life LEDs, and by optimizing the thermal design of the industrial-type LED-based backlighting system based on TMD's extensive experience in utilizing LED backlighting for mobile notebook PC TFT displays. The modules have been designed with a replaceable backlight structure to accommodate the product longevity requirements, and the harsh-usage environments, of industrial applications. In addition, TMD has added the LED driver circuitry into the electrical interface for the displays, an added benefit for customers to simplify their design-in time and costs.
Compared to CCFL backlit displays, LED-backlit displays feature superior characteristics such as lighter weight, lower electrical noise, lower power consumption, and offer a wider adjustable luminance range. LED-backlit displays also reduce the environmental impact, in consideration of both material and energy consumption, since they are mercury-free
1
and lower in power consumption. Also, the new LED-backlit displays do not require the high-voltage and high-frequency circuits required to control luminance in CCFL-backlit displays, thus enabling a higher level of flexibility in system design in terms of safety, electro-magnetic interference (EMI) compensation, and system architecture.
These newly developed products will be exhibited by TMD at the 11th Embedded Systems Technology Expo & Conference (ESEC), booth #EAST35-15, to be held at Tokyo Big Sight, Tokyo, Japan, May 14-16, 2008, and by Toshiba America Electronic Components at the 2008 Society for Information Display International Symposium, Seminar and Exhibition, booth #135, to be held at Los Angeles Convention Center in Los Angeles, CA, USA, May 20-22, 2008.
About TAEC
Through proven commitment, lasting relationships and advanced, reliable electronic components, Toshiba enables its customers to create market-leading designs. Toshiba is the heartbeat within product breakthroughs from OEMs, ODMs, CMs, distributors and fabless chip companies worldwide. A committed electronic components leader, Toshiba designs and manufactures high-quality flash memory-based storage solutions, discrete devices, displays, advanced materials, medical tubes, custom SoCs/ASICs, digital multimedia and imaging products, microcontrollers and wireless components that make possible today's leading cell phones, MP3 players, cameras, medical devices, automotive electronics and more.
Toshiba America Electronic Components, Inc. is an independent operating company owned by Toshiba America, Inc., a subsidiary of Toshiba Corporation, Japan's largest semiconductor manufacturer and the world's third largest semiconductor manufacturer (Gartner, 2007 WW Semiconductor Revenue, April 2008). For additional company and product information, please visit http://www.toshiba.com/taec/.
**About Toshiba Matsushita Display Technology Co., Ltd
In April 2002, Toshiba Corporation and Matsushita Electric Industrial Co., Ltd. merged their LCD businesses into a new joint venture company, Toshiba Matsushita Display Technology Co., Ltd, now known as TMDisplay. The JV company brings together each company's strengths and capabilities in LCD technology to satisfy a broad range of customer requirements and market segments. Today, Toshiba Matsushita Display Technology Co., Ltd. is the worldwide leader in the field of TFT LCD modules for mobile use.
About Toshiba Group
Toshiba Group, a Corporate Citizen of the Planet Earth, is committed to realizing a better environment. Guided by "Toshiba Group Environmental Vision 2050" Toshiba Group is implementing measures to boost environmental efficiency by 10 times in FY2050, against the benchmark of FY2000. Toshiba Group is seeking to reduce CO2 emissions by a total equivalent to 57.6 million tons by FY2025, through the development and sales of high efficiency power supply equipment and systems, and the manufacture of environmentally conscious home appliances and office equipment. By working to mitigate global warming, make efficient use of resources and control management of chemicals, Toshiba creates value for people and promotes lifestyles in harmony.
1-Mercury-Free: Toshiba Matsushita Display Technology Co., Ltd. defines "Mercury-Free" products as those containing no more than a maximum concentration value of 0.1 percent mercury(Hg) by weight in Homogeneous Materials
2
. This does not mean that Mercury-Free products are entirely free of mercury (Hg).
2-Homogeneous Materials: Toshiba Matsushita Display Technology Co., Ltd. defines "Homogeneous Materials" to mean a material that cannot be mechanically disjointed into different materials. The term "homogeneous" is understood as "of uniform composition throughout," so examples of "Homogeneous Materials" would be individual types of plastics, ceramics, glass, metals, alloys, paper, board, resins and coatings. Toshiba Matsushita Display Technology Co., Ltd. defines the term "mechanically disjointed" to mean that the materials can, in principle, be separated by mechanical actions such as unscrewing, cutting, crushing, grinding or abrasive processes.
Contact
Toshiba America Electronic Components Inc. Irvine Headquarters 19900 MacArthur Boulevard, Suite 400 Irvine, California 92612 Telephone: (949) 623-2900 Fax: (949) 474-1300
E-mail:Tech.Questions@taec.toshiba.com.
Web Site:www.tmdisplay.com/tm_dsp/index.htm