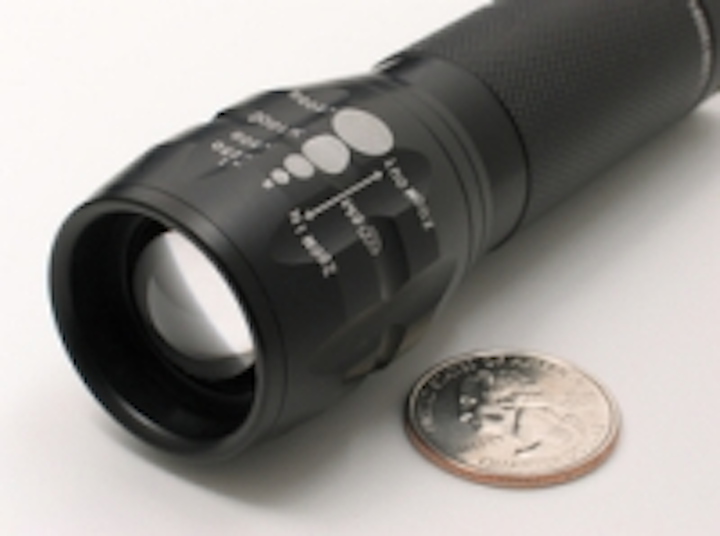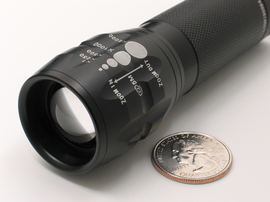 Date Announced: 23 May 2008
TORRANCE, CA —— LEDtronics®, the proven performer in LED technology, introduces a new Micro High-Power LED Flashlight. While continuing the durability of its predecessors, the new Micro FlashLED is more powerful than most LED flashlights on the market today. It has a one-watt, 80-lumen LED chip that emits over 4,300 end foot-candles (4300cd) of bright Cool White (8000 Kelvin) light that's powerful enough and lasts long enough to light your way — all the way home. Other LED light colors are available for qualified customers.
Micro FlashLED operates on three standard, replaceable, AAA-cell-type alkaline batteries. Since LEDs are 80-90% more energy efficient than incandescent lamps, the unit operates 20 - 30 times longer than the comparable incandescent flashlight, providing up to 96 hours or 4 days of continuous illumination at a diminishing light output rate. It retains 50% of its light output after one hour of continuous use.
The exterior is made of anodized aluminum to resist corrosion, impact and scratching. With a brushed aluminum finish, modest styling and sleek form, Micro FlashLED makes a discrete addition to a lady's handbag, a schoolchild's backpack, earthquake kits, or as an emergency light stored in a car or an RV glove box. The flashlight fits comfortably in your hand or pocket; to prevent against accidental activation, Micro FlashLED features a push-button switch in the back of the unit to operate the LED light. It measures 4.5 inches long and just over an inch wide, and without batteries weights only 3.5 oz, with 3 AAA batteries, 4.8 oz.
Has a Unique Focusable Lens with Narrow/Wide Beam Lens Design
Micro FlashLED has a unique Focusable Lens with a narrow- and wide-beam lens design that allows continuous varying of the light beam width from, for example, a concentrated tiny book size at 10 feet from a wall to lighting the whole wall, floor to ceiling. This makes Micro FlashLED ideal for hunters, hikers and campers for illuminating charts, pathways, menus, instruments, emergency lighting. It becomes indispensable for utility workers, military and police tactical operations, for cabin lighting while driving at night, keyhole illumination or just about any situation where a small powerful flashlight can come in handy. Its highly bright light focused in a criminal's eyes can cause dizziness in a few seconds.
With an average LED life span of up to 50,000-plus hours (5 years), White LEDs operate reliably year-after-year. The solid-state design renders LEDs impervious to electrical and mechanical shock, vibration, frequent switching and environmental fluctuation. Integrated current-limited resistors prevent short-circuiting. LED lamps use only 10% - 20% of the energy consumed by equivalent incandescent lamps that, when combined with their maintenance-free operation, results in substantial cost savings.
Founded in 1983, LEDtronics® leads where others only follow when it comes to designing, manufacturing and packaging state-of-the-art LEDs to meet the world's constantly changing lighting needs. Our inventive product line encompasses an array of direct incandescent lamp replacement Based LED bulbs and lamps, low-cost snap-in and relampable Panel Mount LED lamps, high intensity sunlight-visible Discrete LEDs, PCB LEDs circuit board status indicators, surface mount diodes SMT LEDs, full-spectrum rainbow RGB LEDs and Infra-Red (IR) LEDs. Retail price for Micro FlashLED, part number FLT-3102-FSW, is $39.95 each and carries a One-year warranty. Availability is stock to 4 - 6 weeks for special requirements.
The direct URL for Micro FlashLED product on-line datasheet:
http://www.ledtronics.com/ds/FLT-3102-FSW/
Contact
toll free 1-800-579-4875 telephone 310-534-1505 fax 310-534-1424
E-mail:webmaster@ledtronics.com
Web Site:www.ledtronics.com/ds/FLT-3102-FSW