Elation's Impression Hustles and Flows with Jay-Z and Mary J. Blige
May 5th, 2008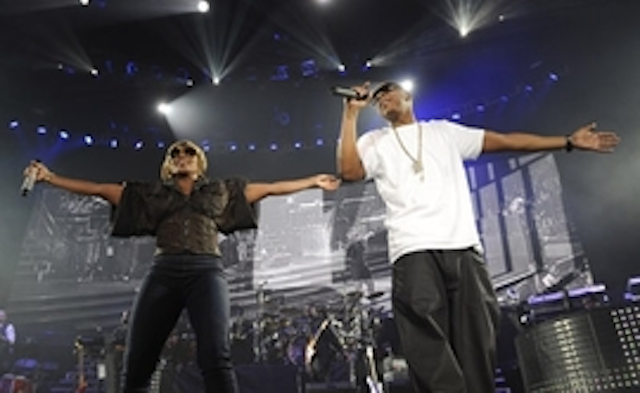 Date Announced: 05 May 2008
LOS ANGELES – Pairing hip-hop's leading man with the reigning queen of R&B has given rise to one of 2008's hottest live music events -- Jay-Z and Mary J. Blige's "Heart of the City" tour. Winning rave reviews from fans and critics alike, this potent urban-music coupling has been a huge box office success, raking in more than $9 million after only its first eight dates.
With the two co-headliners sharing a stage set and teaming up for some numbers such as an opening duet of Jay-Z's "Can't Knock the Hustle," then going on to perform solo with their individual bands, the show's lighting fixtures had to be extremely versatile. The lighting had to accommodate both Blige's "softer, more feminine" show and Jay-Z's performance, which "is very hard-hitting and masculine," said Patrick Dierson of Artfag, LLC (www.artfag.tv ), the tour's Lighting Director.
"They are two very high-profile artists, and the dynamic of her show versus his is a bit different," Dierson elaborated. "Her show is a lot softer, although it still has a lot of accents and pushes because she's a strong performer. With Mary J.'s use of the lighting, things tend to ramp up and ramp down, whereas with Jay-Z's, things tend to snap on and snap off – big, hard-hitting stuff."
"Heart of the City" required lighting that, like the two urban-rooted music genres it illuminated, could go off in different directions while emanating from a single source. Dierson and Artfag's Justin Collie, who served as the tour's Performance Environment Designer, found this versatility – along with many other advantages -- in Elation Professional's Impression LED intelligent moving head color wash fixture.
Equipped with 90 high-power Luxeon K2 LEDs, the Impression boasts an output comparable to a 575W discharge fixture – at a 50% energy savings --while being amazingly lightweight and compact (just 16 lbs. and mountable on a 14" center in any position). Its 30 red, 30 green and 30 blue LEDs can provide an infinite palette of colors via RGB additive mixing, along with smooth, quick color fades. This petite powerhouse also has great speed, capable of panning 660° in under 2 seconds. It offers low heat production and long-life operation with 100,000-hour-rated lamps.
Twenty-four Impressions were hung in a row on an upstage curved truss, above a scenic catwalk, where they are used to light the band members, as well as for accents and hits throughout the show. "One of the things we like about the unit is that even though it's a very digital light, it is capable of being somewhat soft," said Dierson. "You can coax it into doing whatever you want. Because its response time can be very instantaneous, you can do hard snaps, or it can be very soft and smooth. This flexibility makes it ideal for a show with two headliners."
The versatility of the Impression allowed it to be used for multiple purposes within Jay-Z and Blige's performances. In addition to stage lighting and effects, it illuminates the catwalk, which is used as an entrance/exit for performers, who are brought up and down via a lift. "We use the Impressions to do a top highlight of the catwalk, which is a very sectioned-off area. It's a nice unit for this purpose because of the great controllability of the beam -- it doesn't spill onto our video screen, which is very close," explained Dierson.
Weight is another feature that made the Impression ideal for use above the catwalk. "We were looking for a proper unit for that particular truss, which also holds our followspots for near positions and some kabuki drops for scenic elements, so weight was definitely a factor," Dierson said. "The Impressions are so lightweight, we could add them onto the truss without overloading it. Plus when we swung the units around they weren't going to shake the truss."
The Impressions have also impressed with their high output and brightness, added Dierson. "Everyone who comes in and sees them is blown away by them. Then there's the energy saving. On top of everything else, this type of light is much better for the environment."
For more information, contact Elation Professional at (866) 245-6726, or visit www.elationlighting.com.
Artfag, LLC's website address is www.artfag.tv
Contact
Christine Humphrey 22710 Haggerty Road Farmington Hills, MI 48335
E-mail:christine@fucinipro.com
Web Site:www.elationlighting.com