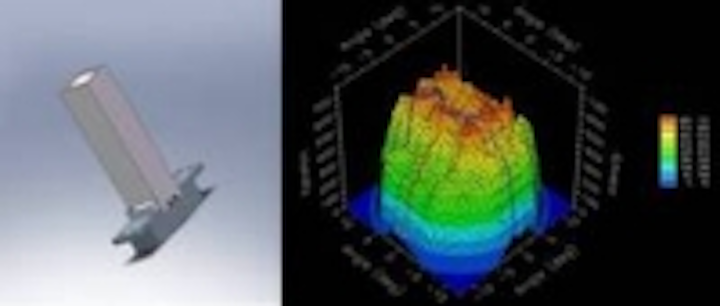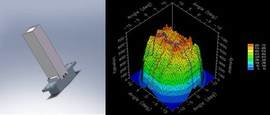 Date Announced: 21 May 2008
OSCI's LumenHammer™ LED Light Engine delivers high brightness
Corvallis, OR—Efficiently collecting light from high-brightness LED's has been a real challenge until LumenHammer™ Light Engines. Optical Short Course International Inc's (OSCI) Illumination Designers have developed the LumenHammer™ Light Engine to collect high-brightness LED light with high efficiency and deliver it into a very narrow beam angle. Historically, collection efficiency and collimation are two difficult parameters to conquer.
With recent R&D efforts, OSCI has achieved both in one fantastic LED light engine in the LumenHammer™ Light Engine. With a Half Divergence Angle of 10° in X and Y and an Exit Aperture of 15mm sq, the standard LumenHammer™ LED Light Engine Total Lumen output of 400 lumens in white and 90 lumens in green.
Originally designed with OSRAM Ostar® red, amber, green, blue, and white high-brightness LEDs, OSCI Illumination Designers have also developed custom LumenHammer™ LED Light Engines to works with Luminus Devices, Lumileds™, and Cree HB LEDs.
Standard and custom LumenHammer™ LED Light Engine applications include: architectural lighting, process automation, display industry, machine vision, medical, dental, defense, aviation, aerospace, automotive, transportation, consumer electronics, and entertainment lighting.
From design and analysis to the prototyping and production, OSCI continues to create innovative high-brightness LED illumination design solutions for clients worldwide.
For additional information to tame your high-brightness LED problems or LumenHammer™ LED Light Engine custom solutions; visit us at http://oscintl.com/lumenhammer.htm or call 541-255-2183.
Contact
Traci Pate Office Manager Optical Short Course International, Inc. 1128 NE 2nd Street, Ste 104 Corvallis, OR 97330 Skype: oscione 541.255.2183 541.207.8101 cell traci@oscintl.com www.oscintl.com
E-mail:traci@oscintl.com
Web Site:www.oscintl.com