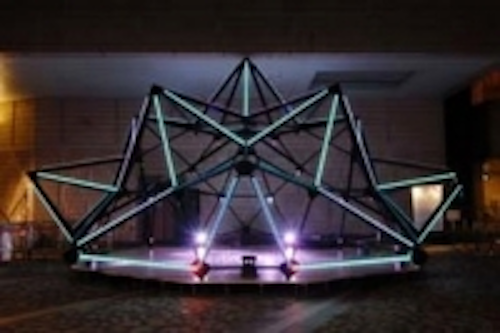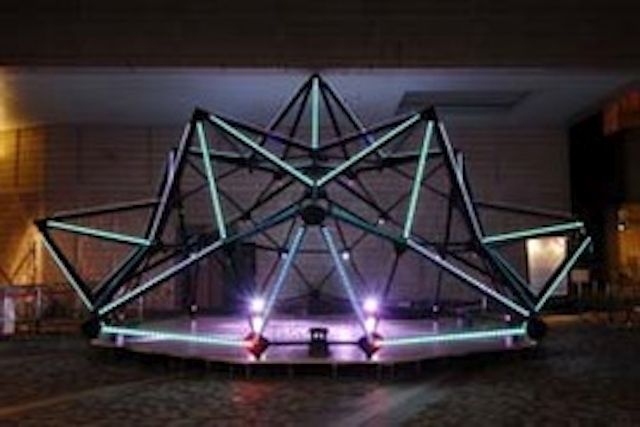 Date Announced: 06 May 2008
Hong Kong, 6 May 2008 - Hong Kong-based LED artist Teddy Lo has a reputation for his groundbreaking pieces of visual art. Committed to demonstrating both the illuminative and environmental benefits of LED lighting, he has used the latest Lighthouse LED technology for the maiden display of his newest - and biggest – creation, Phaeodaria.
An integral part of the A-Glow-Glow Macro Interactive Media Arts Exhibition, which took place at the peripheral area of the Hong Kong Museum of Art from 11-20 April 2008, Lo's 'Phaeodaria' comprised around 80 pieces of Lighthouse's brand new creative video solution, LEDscape® Bar, arranged to form an eight metre diameter geodesic dome.
Inspired by Ernst Haeckel's illustrations of marine life forms, the project utilised wireless mobile telecommunications technologies to change the colours of the Lighthouse LEDscape® Bar - thereby illustrating in lit form the wireless information culture that Lo feels is highly representative of contemporary Hong Kong life.
To achieve this, he recorded the signals outside a large department store at Causeway Bay in Hong Kong which he then decoded to form a playback signal for controlling the LEDscape® Bar.
Lighthouse LEDscape® Bar comprises a matrix of 32 RGB LED pixels in a weatherproof enclosure measuring two metres long by 35mm wide. With a pixel brightness of 15,625 mcd, wide viewing angles and Lighthouse's proprietary technology ensuring remarkable colour uniformity - 28.15 trillion colours can be accurately reproduced - LEDscape® Bar is the ideal solution for large scale installations - both indoor and outdoor - where the inventive and eye-catching use of light are essential.
"LED is a revolutionary technology," says Teddy Lo. "It's very environmentally friendly and has a huge impact on the world. The new LEDscape bars provide me with the scale and mechanical flexibility that I was looking for."
"With incandescent light bulbs turning more than 80 per cent of the supplied energy into heat, using LEDs instead can make a very positive impact on the problems of energy shortage and global warming. My job is to promote this tech artistically."
With Lo and Lighthouse both absolutely committed to the very latest LED technology, the creation of 'Phaeodaria' is a perfect illustration of the natural synergy between them.
"As a company, Lighthouse is absolutely thrilled that Teddy Lo chose LEDscape® Bar from which to construct this remarkable piece of art," says Peter Chan, general manager of Lighthouse.
"As well as Teddy's artistic vision, 'Phaeodaria' demonstrates the remarkable flexibility with which LEDscape® Bar can be both installed and controlled. It is the perfect demonstration of how inventive thinking and the latest LED technology can produce truly outstanding results."
Contact
Sarah James Gasoline Media Limited
E-mail:sarahj@gasolinemedia.com
Web Site:www.lighthouse-tech.com