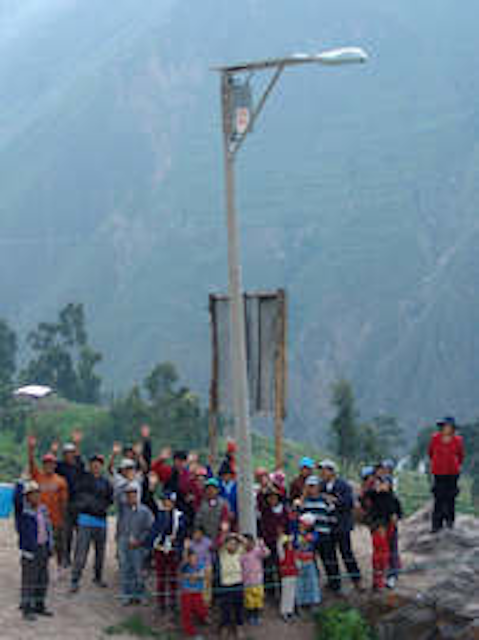 Date Announced: 12 May 2008
Palm City, Fla., U.S.A. — Sol Inc. (Solar Outdoor Lighting) has arranged for the donation of 42 solar lighting systems to 11 communities in Peru affected by the August 2007 earthquake. Philanthropist David Russell, who, funded the donation with the assistance of Practical Action of Peru and local governments facilitated a partnership with Sol Inc. to ensure the donated lights were installed where they were needed most.
The solar lighting systems were recently installed in the Peruvian communities of Nuevo Amanecer, Marcas, Quilca, Yanapampa, Huancho, Buenavista, Tantas, Uchapa, Chacará, Huayao and Castrovirreyna. The solar lighting systems are lighting streets, pathways, and community "plaza" squares.
"We felt compelled to do what we could for the victims of this earthquake and we thought that our solar lighting would help address some of the challenges facing these communities so affected by this tragedy." said Michael W. Sonnenfeldt, chairman of Sol Inc. "Public lighting is often critically important to the economic and social activities of a community and our solar lights will enhance the safety and security of these communities. Public lighting extends the daily life of a small town whether it is for children playing or allowing a market to remain open a few hours longer. We learned from our previous relief efforts donating solar lighting units to New Orleans and other Gulf Coast cities affected by Hurricane Katrina that working with local government agencies and world class relief agencies involved in the recovery efforts is critically important to ensure the successful installation of the donated solar lights. Practical Action really made this happen."
Sol took the initiative to identify the project, the local needs, and arranged for a donor who could rely on Sol to manage the entire process from beginning to end. Sol donated all of the logistical efforts to augment the contributions to make the project happen.
Philanthropist David Russell, who underwrote the project added; "I wanted to help the victims of the earthquake, but I wanted to fund a specific effort where I could be sure where my contribution was going, and for what. Sol provided a complete solution that literally allowed me to write a single check, and they took care of the rest, professionally and in very difficult and complicated circumstances. This opens up a whole range of possibilities for foundations and philanthropists who often have the intent but not the infrastructure to help victims of one type of disaster or another."
"In the evening, families would normally retreat into their households. Thanks to the efforts of Practical Action and Sol Inc., people now gather under the solar lights for social activities and watch their children play in a secure environment," said Federico Salas, Governor of Huancavelica Region in Peru, the region most affected by the earthquake.
The powerful 8.0 magnitude earthquake hit the southern coastal province of Ica in Peru last August killing over 400 people and injuring another 1500. More than 16,500 people were displaced or otherwise affected by the quake.
About Sol Inc. – www.solarlighting.com
Sol is a world leader in the development and distribution of Solar LED lighting. Sol is the oldest manufacturer focused on outdoor solar lighting systems with over 18,000 systems installed in more than 50 countries on six continents. Sol has introduced innovative, reliable and cost-effective solar lighting systems for over 15 years that provide unsurpassed levels of illumination and reliability. Sol develops, manufactures and markets commercial/industrial-grade solar powered and energy efficient lighting systems for a wide range of lighting applications including area and security, street and roadways, sign and billboards and transit and shelter lighting. Sol's commitment is to superior design, manufacturing, and customer satisfaction as verified by our ISO 9001:2000 certification.
About Practical Action – www.practicalaction.org
Practical Action, formally known as Intermediate technology Development Group (ITDG), is a charitable Non-Government Organization registered in the United Kingdom, which works directly in four regions of the developing world – Latin America, East Africa, Southern Africa and South Asia to demonstrate and advocate the sustainable use of technology to reduce poverty in developing countries.
Contact
Michele McDermott 772.286.9461 ext. 2032
E-mail:michelem@solarlighting.com
Web Site:www.solarlighting.com