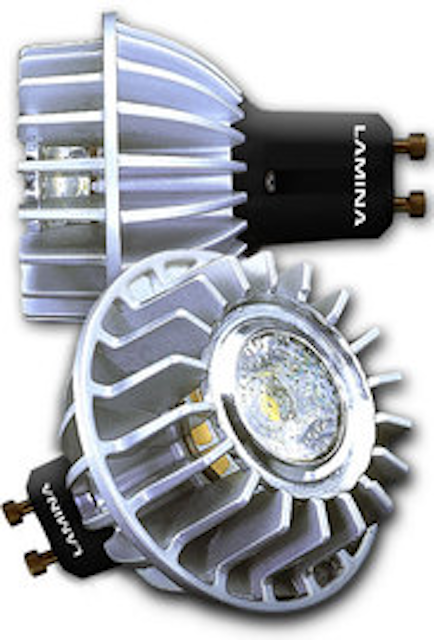 Date Announced: 24 May 2008
The new SōL MR16 GU10 LED Lamp delivers over 240 lumens at only 8 watts offering big energy and replacement cost savings
WESTAMPTON, NJ (May 27th, 2008) – Lamina Lighting Incorporated (Lamina), an innovator of LED lighting systems and technologies, today announced the introduction of a GU10 version of its popular SōL Series of MR16 LED lamps. As with their bi-pin GU5.3 model, the Lamina SōL GU10 MR16 LED integrates a high power light source, optical lens and thermal heat sink shell in a traditional MR16 GU10 halogen form-factor. This innovative design, which fits most existing fixtures, produces as much light as the 20-watt halogen bulb it replaces, but consumes just 8 watts of electricity.
The first of their kind, Lamina SōL MR16 LED Series of replacement lamps are designed as direct, ready-to-plug-in retrofits for 20-watt MR16 halogen and comparable compact fluorescent lamps (CFLs). Each SōL MR16 LED provides the quality of light produced by traditional incandescent lamps with warm color temperatures of 3050°K and color rendition index (CRI) values greater than 80, making these products ideal as halogen replacements. Higher color temperature lamp equivalents of 4700°K are also available. The products will be demonstrated at Lightfair International 2008 (Booth #2172), May 27-30, in Las Vegas, Nevada.
"Lamina's SōL MR16 LED Series of lamps also offer significant return-on-investment," said Frank M. Shinneman, the company's president and CEO. "With a lifetime of more than 50,000 hours, the energy savings, replacement cost savings of traditional lamps and money saved in labor costs to replace burned out lamps can potentially add up to more than $700 per fixture." Adding to the value, Mr. Shinneman noted that each Lamina SōL MR16 LED emits no heat (infrared) or ultraviolet radiation in its light beam, is readily dimmable, and contains no mercury (as do fluorescent lamps) or lead. As are all Lamina LED products, the SōL MR16 LED Series is fully compliant with the EU's RoHS Directive restricting mercury, lead, cadmium and other hazardous substances.
Among the many applications, Lamina SōL MR16 LED Series lamps are ideal for:
Track lighting
Display case fixtures & cabinet lighting
Aerospace lighting systems
Hospital and medical environments
Architectural lighting
Signage and back lighting
Industrial OEM equipment lighting
Retail sales displays
Cruise ship and yacht lighting
Museum lighting
All Lamina SōL Series LED lamps and Lamina light engines are manufactured by combining high brightness LEDs from industry-leading LED chip manufacturers with the company's own proprietary packaging technology. This technology is a breakthrough in thermal performance for LED packaging, a key factor in determining LED life and reliability. Unmatched thermal performance coupled with package interconnectivity allows Lamina to densely cluster multiple LEDs to achieve exceptionally high luminous intensity in very small footprints.
Lamina also provides unmatched integration support. Experienced sales application engineers, knowledgeable in LED design integration, optics, thermal management and electronics are just a phone call away.
About Lamina
Lamina Lighting Incorporated (Lamina) defines the current state of LED lighting technology with continuous innovations in light output, efficacy and thermal management. Founded in 2001 as a spin-off from the Sarnoff Corporation, Lamina is at the forefront of global LED research and product development. With its Atlas™, Titan™ and SoL™ Series LED product lines, Lamina provides ultra-high brightness white LED lighting products that satisfy the growing global need to replace conventional lighting with LED technology for general illumination. Among its other benefits, Lamina's environmentally responsive LED technology and programs aid in lowering CO2 emissions – the dominant GHG contributor to global warming. Headquartered in Westampton, New Jersey, Lamina Lighting is funded by five premier technology venture funds. For more, visit www.laminalighting.com.
Contact
For more information, contact: Dan Polito, Vice President of Marketing Lamina Lighting Incorporated dpolito@laminalighting.com 609 265 6802
E-mail:dpolito@laminalighting.com
Web Site:www.laminalighting.com