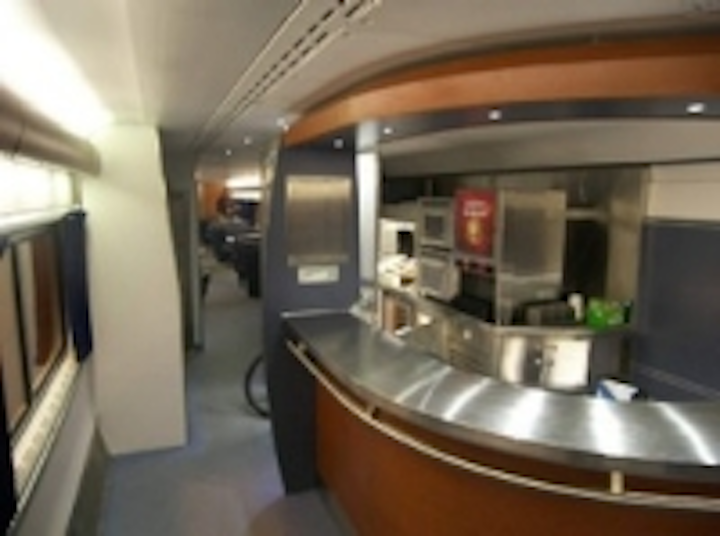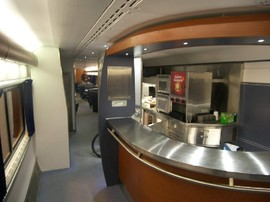 Date Announced: 12 May 2008
Ulverston, UK, 12 May 2008. Marl today announced a sales agreement with the US railroad operator Amtrak, under which its LED downlighters are being installed in Superliner 1 diner carriages as part of their conversion to diner lounges.
According to Marl, the contract was awarded on the basis of the energy efficiency of its illumination solutions, as well as the ease of installation. Graham Round, vice president of sales of Marl Opto Inc, said, "Marl high intensity LEDs are easy to install, require no maintenance, create very little heat and are excellent in high vibration applications such as train coaches. We have been able to meet all the applicable US railroad safety regulations, especially those covering emergency lighting. In the event of total power loss, Marl LEDs can continue to provide illumination for four hours from the back-up battery."
Marl LEDs also offer a very long service life, and the products supplied to Amtrak have a rated continuous service life of 70,000 hours. Amtrak is to install 24 of these lights into each refurbished Superliner dining car.
About Amtrak
Amtrak provides intercity passenger rail services to more than 500 destinations in 46 states on a 22,000-mile route system in the USA. For more information, please visit www.amtrak.com.
About Marl
Marl has specialised in the design and manufacture of visible LED indication and illumination components and systems for over 35 years, to customers in the electronic, power generation, defence and telecommunications industries. Its highly trained and experienced team of over 80 design and manufacturing specialists operate from a dedicated technology park in Ulverston, England and stand ready to offer its customers a solution to any requirement. They are able to offer a range of standard products, customised to suit individual projects, or even design a specific component from scratch. Marl is a quality company. It is registered to BS EN ISO 9001:2000 standard and fully RoHS and WEEE compliant.
Photo caption: Marl's LEDs are being installed in Amtrak's Superliner 1 diner carriages.
Contact
For more information, please contact: Marl International Limited, Marl Business Park, Ulverston, Cumbria. LA12 9BN, UK. Tel: +44 (0)1229 582430; Fax: +44 (0)1229 585155; Email: marketing@marl.co.uk; Website: www.marlopto.com Press Contact: Peter van der Sluijs Neesham Public Relations Tel: +44 (0) 1296 628180 Email: peterv@neesham.co.uk
E-mail:elaineh@neesham.co.uk
Web Site:www.marlopto.com