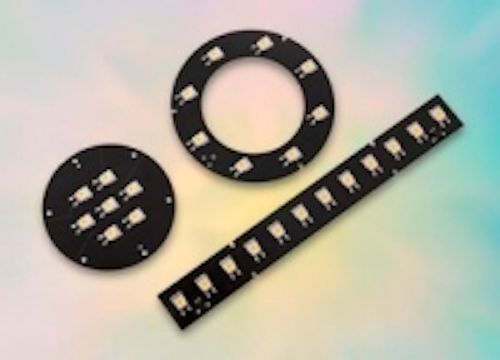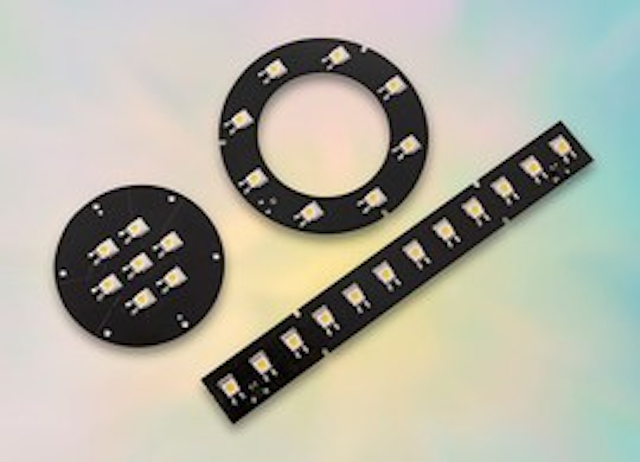 Date Announced: 08 Apr 2008
New Low-Profile High Power LED Modules Feature a Robust Package Design, High Flux Output and Plug-and-Play Installation
Avago Technologies, a leading supplier of analog interface components for communications, industrial and consumer applications, today announced a new series of thin plug-and-play high power cool white and warm white LED modules for use in architectural, backlighting, decorative, garden, and reading light applications. Avago's ADJD-WMxx/YMxx Moonstone LED series features a light strip, ring and round modules to meet the diverse needs of lighting application designers. Available in one of the industry's thinnest packages these modules provide customers with many design options and ease of assembly.
The input power for Avago's ADJD-WMxx/YMxx high power modules range from 1W to 15W and are capable of delivering up to 1140 lumens to provide exceptional lumens per Watt efficiency. This new series of high power LED modules from Avago targets designers of lighting fixtures such as architectural facade lighting, task and reading lights, accent lighting and billboard backlighting. Other applications include safety, exit and emergency sign lighting, illumination in vending machines, refrigeration lighting, retail lighting and illumination for machine vision equipment.
LEDs are increasingly being used for solid state lighting applications. As a result, lighting equipment manufacturers are constantly in need of LED packages that are brighter, more robust and reliable. Lighting designers, especially those who are converting from conventional light sources to LED-based solutions are always looking for high power LEDs that are competitively priced and easy to use – preferably with plug-and-play features.
Avago's ADJD-WMxx/YMxx high power Moonstone LED modules also provide better lifetime robustness and reliability compared to conventional light sources. They are mounted on a metal-core printed circuit board (PCB) to make thermal management easy. Moreover, the wide radiation patterns provided by these LED modules are ideal for illuminating a wide area.
The LEDs used in Avago's ADJD-WMxx/YMxx high power modules are encapsulated in a heat and UV resistant silicone compound for high reliability and long life. These competitively priced cool white and warm white high power LED modules provide designers of solid-state lighting applications with a wide viewing angle and superior heat dissipation. The number of LEDs that can be mounted on to the metal core PCB of the ADJD-WMxx/YMxx modules range from 1 to 12 LEDs to meet the different lighting output requirement of designers.
Avago's ADJD-WMxx/YMxx high power LED modules series come with two options of white – cool white (color temperature of 4,000K to 10,000K) and warm white (color temperatures of 2,600K to 4,000K).
Features
• Plug-and-play assembly for ease of installation
• High light output up to 1140lm with cool white
• Low profile height
• Smooth wide radiation pattern
• Integrated metal heat sink to simplify thermal management design for efficient heat dissipation
• Long operating life
• High reliability package due to enhanced silicone resin material
• Low thermal resistance
• Pb-Free and RoHS compliant
Availability
Samples and production quantities are available now through Avago's direct sales channel and worldwide distribution partners.
Avago High-Brightness LED and Display Backlighting Solutions
Avago Technologies is one of the largest producers of visible LEDs in the world and ships billions of products annually. Known for its LEDs' performance, efficiency and reliability, Avago offers an extensive portfolio of products at globally competitive prices. From a discrete LEDs supplier, Avago has emerged to offer total solutions for illumination and lighting applications. Key products include high brightness and high power LEDs, PLCC surface-mount LEDs, color sensors, and display backlighting module solutions. These LEDs and display modules address a wide range of markets, including electronic signs and signals, automotive, solid state lighting and LCD display backlighting.
About Avago Technologies
Avago Technologies is a leading supplier of analog interface components for communications, industrial and consumer applications. By leveraging its core competencies in III-V compound and silicon semiconductor design and processing, the company provides an extensive range of analog, mixed signal and optoelectronics components and subsystems to more than 40,000 customers. Backed by strong customer service support, the company's products serve four diverse end markets: industrial and automotive, wired infrastructure, wireless communications, and computer peripherals. Avago has a global employee presence and heritage of technical innovation dating back 40 years to its Hewlett-Packard roots.
Contact
Avago Technologies Literature Service Ref.-Nr.: PRAV08004 Postfach 2260 D-35532 Wetzlar Fax: +49 (0)6441/924-646
E-mail:info@promotionteam.de
Web Site:www.avagotechlighting.com