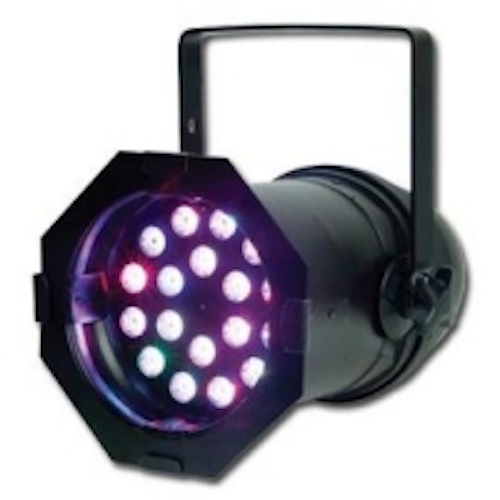 Date Announced: 29 Apr 2008
-- Advanced 3-LEDs-in-1 Design Eliminates 3-Color Shadows, Improves Color Mixing
LOS ANGELES – Par cans have come a long way from their color-gel roots; today's LED-powered models allow you to create millions of colors through additive RGB mixing using a DMX controller. Now Elation Professional is taking the LED par can revolution even further into the future with the ELED Tri-64B Par Can, an advanced DMX-compatible stage light built with the company's exclusive tri-color RGB LED technology for superior color mixing and multi-color shadow-free performance.
The ELED Tri-64B is equipped with 18 LEDs. However, instead of each LED being a single-color, the innovative tri-color technology makes it possible for all of the unit's 18 lenses to contain a combination of 3 different-colored 1-watt LEDs – red, green and blue.
This tri-color grouping of red, green and blue lamps provides tremendous advantages over single-color LEDs. For starters, it eliminates the annoying multi-color shadows that LED fixtures commonly produce on illuminated surfaces. And, because each of the 18 tri-color LEDs remains "on" at all times, regardless of which color is being produced, the ELED Tri-64B mixes colors more smoothly than traditional RGB LED par cans. It also produces a much brighter, more even field of light, for better illumination of stages, performers, displays and exhibits, comparable color-to-color to a 500W Par 64 Can -- but at 1/7 the power consumption at full output, and with all the other well-known LED advantages.
"We developed tri-color technology in response to users' demands for improved color-mixing and the elimination of the red, green and blue shadows that you often get with RGB LED fixtures," said Eric Loader, director of sales for Elation Professional. "The ELED Tri-64B mixes colors much more smoothly and evenly than an ordinary LED par can with one-color LEDs. This is because, no matter what color you're mixing, each of its 18 light sources remains on. If you were mixing, say, magenta, on a fixture with single-color LEDs, only the red and blue LEDs would be turned on. But with the Tri-64B, all 18 LEDs can run continuously, and you see the magenta color created in each lens. The result is a more 'blended,' even-toned mixed color"
The tri-color technology also somewhat "magically" creates a better range of white colors, added Loader. Thus, the ELED Tri-64B does not contain any white or amber LEDs, which can limit primary color output. This contributes to the fixture's enhanced brightness and clarity.
Great for stages, concerts, displays and exhibits, the ELED Tri-64B generates virtually no heat, and it is extremely energy efficient, drawing only 70 watts of power. Another advantage of its LED lamps is their long life, rated at 50,000 hours.
Featuring flicker-free operation, the ELED Tri-64B is also ideal for video production use. It can produce a virtually infinite range of colors and includes 0-100% electronic dimming and strobing. Additionally, it comes equipped with 6 built-in programs and 35 color macros.
The ELED Tri-64B has 6 DMX modes: 1 Channel mode, 2 Channel mode, 3 Channel mode, 4 Channel mode, 6 Channel mode, and a 7 Channel mode, giving users control over RGB color mixing, macros, dimming and strobing. It can also be operated without a controller in 3 additional modes: Sound Active Mode, chasing to its built-in programs; Macro Mode (any selected color macro); or Auto Mode (any selected program). Multiple units can be linked together Master-Slave via XLR data cable, and the unit also offers 5 and 3-pin DMX connections.
The size of a Par 64 can, the ELED Tri-64B measures 18.5"L x 10.75"W x 10"H, and weighs 9 lbs. Its lenses have a 25° angle. The MSRP of the ELED Tri-64B is $999.95.
For more information, call Elation Professional toll-free at 866-245-6726 or visit www.elationlighting.com.
Contact
Christine Humphrey Fucini Productions 22710 Haggerty Rd. Farmington Hills MI, 58335 248-374-2882
E-mail:christine@fucinipro.com
Web Site:www.elationlighting.com