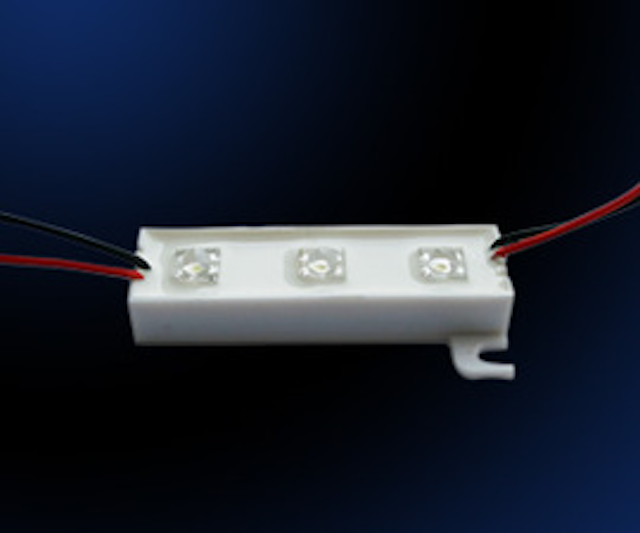 Date Announced: 28 Apr 2008
ATG Electronics® oSignage™ WP3 LED Modules are designed for signage lighting and decoration, both indoor and outdoor are applicable; they are ideal alternatives to neon or fluorescent tubes. Color is available in red, yellow, blue, green, white.
oSignage™ WP3 is oblong shape, with 3LEDs in, and available in solid colors and 12VDC input.
oSignage™ WP3 can be easily installed onto the surface of the channel letters with the 3M double-sided sticking tape on the back. The red-black power cable between each module is 100mm(3.94 inch) long; they can be cut and powered up at every one piece or re-connected to apply specific length.
oSignage™ WP3 is IP68 rated, can be submerged into water. When dimming function needed, you can install our QColor™ Remote Dimmer on the main cable.
oSignage™ WP3 is the ideal products to light up channel letters, signboards, besides, they can be used for under-counter lighting or decoration lighting. They have been successfully used in homes, hotels, restaurants, stores, shops and clubs etc.
Technical Specifications:
-LED Qty: 3LEDs
-Operation Voltage: 12VDC
-Lumens ( one pcs): 3.06 lm(Red), 3.15 lm(Yellow), 3.3 lm(Blue), 10.8 lm(Green), 11.4 lm(White)
-Power Consumption: 0.24 W
-Beam Angle: 80 degree
-Dimension: L3000*W11*H2 mm (L2.4*W1.4*H0.47 inch)
-IP Rating(Work environment): IP68 (submersible)
Features & Benefits:
-High brightness with ultra bright LEDs in high intensity;
-Easy installation with 3M double-sided sticking tape;
-Long life span of 50,000 hours with little heat, high quality LEDs and proper drive characteristics;
-With IP68 degree, ideal for indoor and outdoor applications;
-Safety and stable with low voltage (12VDC);
-Energy saving with low power consumption.
Recommended Applications:
-Signage lighting (channel letter lighting, reverse channel letter lighting, signage back lighting etc) for your business purpose;
-Under-counter lighting for your cabinets, cupboards etc in your homes, restaurant and any other places where you need accent lighting;
-Decoration lighting for your homes, hotels, restaurants, stores, shops, clubs, bars etc.
Contact
ATG Electronics Corp. ---Think Green, Act Green. International Sales Department Tel: +86-21-33932667 Fax: +86-21-33932677
E-mail:sales@atgelectronics.com
Web Site:www.atgelectronics.com