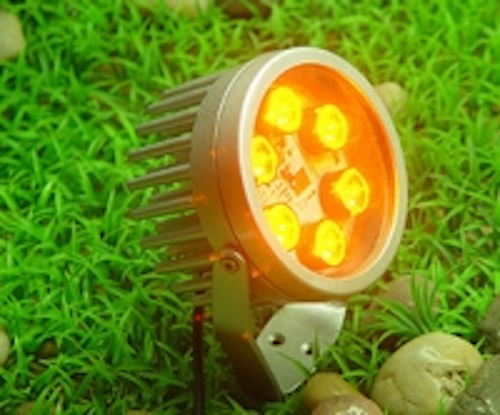 Date Announced: 07 Jul 2008
Beautiful Light dancing with the water columns, how smart the fountains will be? Just enjoy the happiness and excitement brought by Focos™ P Series LED Pool Lamps
ATG Electronics Focos™ P6 LED Pool Lamps are complete waterproof lighting fixtures designed for outdoor or underwater lighting applications.
Focos™ P6 come with 6LEDs in and available in white and RGB colors. They come with unified high quality power and data cable, work at 24VDC. RGB color versions are compatible with DynColor™ 300-FS DMX Controller or QColor™ 310-FS Mini Controller. Waterproof power supplies shall be ordered along with the lamps.
Adopting high quality Cree LEDs and sharp optical lens, Focos™ P6 create fantastic lighting effects. The molten aluminum body and stainless steel polishing faceplate make it against external shock. Depending on pure aluminum heat sinks, Focos™ P6 substantially improve thermal property.
The "U" bracket makes it adjustable in projecting angle. With IP68 rated, Focos™ P6 can be submerged into water and ideal for lighting the square fountains. Waterproof junction boxes are needed during installation.
Features & Benefits:
-High quality light output with Cree LEDs;
-High light efficiency with narrow-angle optical lens;
-High shock and vibration resistant with aluminum body and stainless steel polishing faceplate;
-Good thermal property with pure aluminum heat sinks;
-Perfect for outdoor use with IP68 protection degree.
Technical Specifications:
-LED Qty: 6LEDs
-Color: White, RGB
-Operation Voltage: 24VDC
-Power Consumption: 18W
-Beam Angle: 25 degree
-Dimension: D126 * H79 mm ( D4.96 * H3.11 inch)
-IP Rating(Work environment): IP68 (submersible)
About ATG Electronics
ATG Electronics established in 1999 and formed partnerships with companies in California, designs, produces, distributes and licenses lighting emitting diode (LED) controllable digital decoration and illumination lighting systems, including
iBright™ LED Fluorescent Lights, eLucent™ LED XPower Lamps for illumination lighting;
iVision-V™ and oVision-V™ LED Screens for advertising lighting;
iLinear™ LED Ribbon Strips, iSignage™ LED Flex Strips and oSignage™ LED Modules for signage lighting;
Smart™ LED Wall Washers, UniQ™ LED Border Lights and Infinity™ LED Rope Lights for architectural lighting;
and power/control systems and software.
Contact
ATG Electronics Inc. ---Think Green, Act Green International Sales Department Tel: +86-21-33932667 Fax: +86-21-33932677
E-mail:sales@atgelectronics.com
Web Site:www.atgelectronics.com