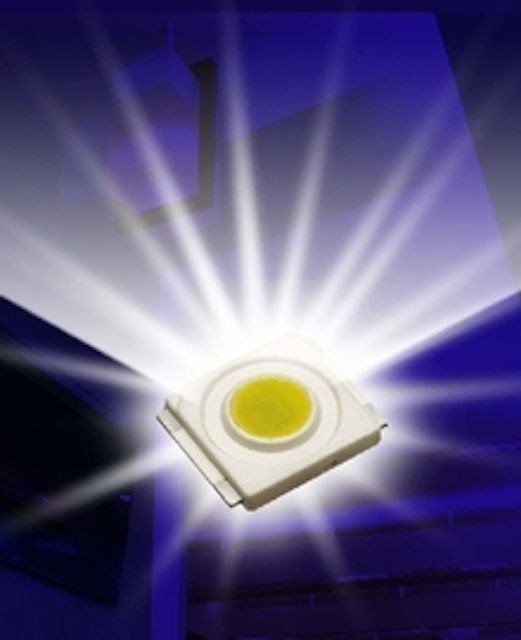 Date Announced: 30 Jul 2008
DOMINANT is offering now higher brightness white LED in the SPNovaLED-1 Watt product range. With an operating current of only 350mA, this new generation of single chip LED is able to achieve maximum up to 100lm/w and typical at 90lm/w in cool white. Besides delivering the maximum possible light from the smallest of sources, this high-performance LED has an exceptionally long lifetime due to excellent thermal design that enables optimum heat dissipation and silicone encapsulation.
With the new definition of the color bins as well as flux binning, these LEDs feature a much better homogeneity in illumination especially for high sophisticated lighting solutions.
Designed for wider angle illumination, extremely low thin profile of only 1.5mm and a small footprint (6.0 x 6.0mm), these SPNovaLEDs are suitable for various lighting solutions requiring the maximum light provided by the smallest possible source to be used in applications such as street lighting, tunnel lighting, display lighting and channel lighting.
The color temperature range for cool white is specified from 4500k to 10000k. Despite increased brightness, high efficiency and reliability, DOMINANT offers competitive pricing providing more lumens per watt than competition.
About DOMINANT Semiconductors
DOMINANT Semiconductors Sdn. Bhd. is a dynamic Malaysian Company that is amongst the worlds leading SMT LED Manufacturers. An excellence – driven organization, it offers a comprehensive product range for diverse industries and various lighting applications in the automotive, consumer and communications as well as industrial sectors. With extensive industry experience and relentless pursuit of innovation, DOMINANT's state-of-art manufacturing, research and testing capabilities have become a trusted and reliable brand across the globe. More information about DOMINANT Semiconductors can be found at http://www.dominant-semi.com. DOMINANT is a QS 9000 and TS 16949 certified company.
Contact
Tel: +60 (06) 2833566 Fax: +60 (06) 2830566 Email: sales@DOMINANT-semi.com Website: http://www.dominant-semi.com
E-mail:sales@dominant-semi.com
Web Site:www.dominant-semi.com