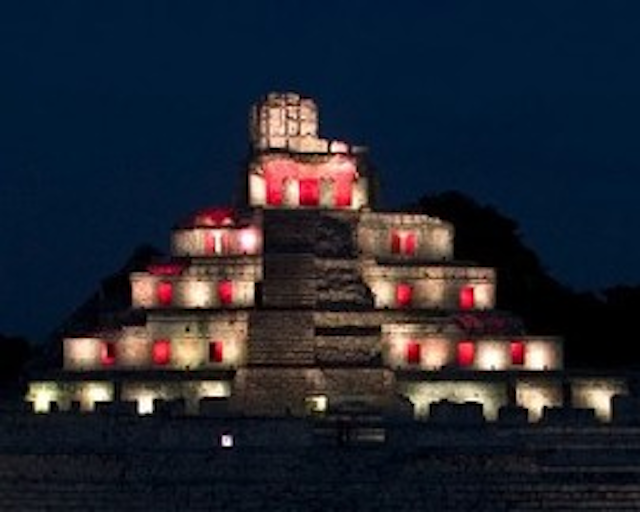 Date Announced: 10 Jul 2008
Among many things, the Maya civilization is noted for its spectacular art and monumental architecture. The archaeological site of Edzná, in the Mexican state of Campeche, combines remarkable architecture with a newer form of art, illuminating the building with colorful light shows made possibly by Philips LED solutions and technologies.
(Photo Credit: Elias Cisneros, 333 Luxes and Leo Espinosa)
At this historical site, the most remarkable building is the main temple called Pirámide de los Cinco Pisos or the Pyramid of the Five Floors. Built on a platform 131 feet high (40 m), the temple provides views for visitors of the surrounding countryside. Another breathtaking view occurs on Friday and Saturday evenings, when a multimedia spectacle called the "Light of the Itzáes" occurs. This event enhances the beauty of the imposing archeological site and brings new life to the ceremonial center that flourished between the years 600 and 900 A.D.
Lighting designer Elias Cisneros of 333 Luxes led a team of professionals in the creation of the spectacle at Edzná. To illuminate the pyramid, they used 127 Philips ColorBlast® 12 fixtures. These LED-based fixtures can wash the structure with a combination of millions of colors without the need for colored gels or mechanical scrollers. Placed strategically along the base of each tier of the temple, the ColorBlast 12 fixtures saturate the temple in various color combinations coordinating with the narration by Alfredo Escalante and music by Ricardo Vega.
The light show highlights the detail of the building, drawing focus to the areas of interest defined by archeologist Antonio Benavides. At the beginning of the show, the temple is saturated in rich hues of red then the structure is blanketed in vibrant greens and blues. The fixtures are controlled by a DMX control solution that brings the dynamic lighting effects to life. Another added benefit to using Philips LED fixtures is that they do not radiate heat or UV rays; which could damage the temple's exterior over time.
Thanks to the multimedia spectacular, Edzna has become an icon for the Maya culture and continues to increase cultural tourism for the area.
About Philips Solid-State Lighting Solutions
Philips Solid-State Lighting Solutions, the new entity formed by Philips' acquisition of Color Kinetics, transforms environments through new, dynamic uses of light. Its award-winning lighting systems and technologies apply the benefits of LEDs as a highly efficient, long lasting, environmentally friendly, and inherently digital source of illumination - reinventing light itself as a highly controllable medium. Philips Solid-State Lighting Solutions also enables widespread adoption of LED lighting through OEM and licensing partnerships in diverse markets. The company is headquartered in Burlington, MA.
Contact
Jill Klingler Philips Solid-State Lighting Solutions 781-418-9277
E-mail:jill.klingler@philips.com
Web Site:www.colorkinetics.com