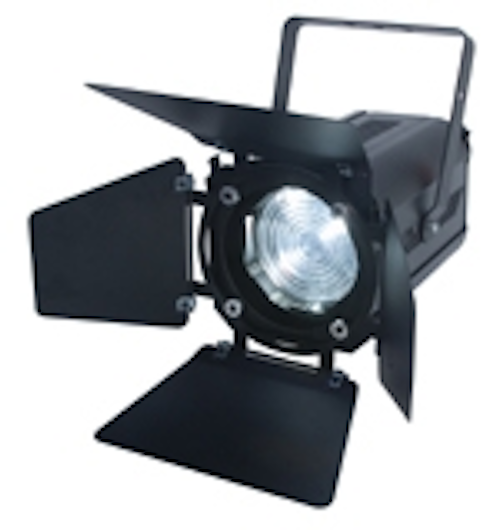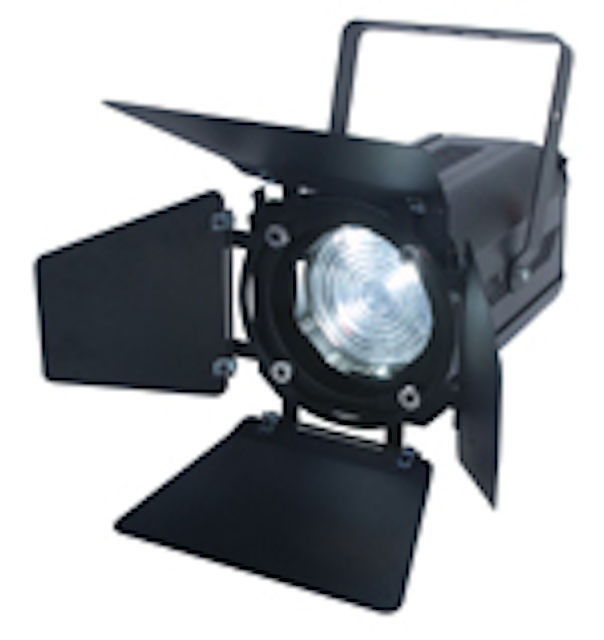 Date Announced: 29 Oct 2008
LOS ANGELES – Perhaps no stage lighting fixture has been more popular and enduring over the years than the basic Fresnel spotlight. Now Elation Professional has taken this timeless theatrical classic into the 21st century with the introduction of the ELED Fresnel, a modern-day version of the white Fresnel stage light that's powered by LEDs.
Instead of the traditional halogen lamp, the ELED Fresnel utilizes a 50W, 6,000k white LED module as its light source. This module, comprised of a cluster of white LEDs, emits an extremely high output that's equivalent to a 500W halogen lamp. Yet because of the amazing energy efficiency of LEDs, the ELED Fresnel draws a total of only 75W of power, allowing theaters and productions to save big on their energy bills.
In addition to energy savings, incorporating LED technology into a Fresnel luminaire offers other significant advantages. For one, because LEDs generate little or no heat, the ELED Fresnel will keep the temperature much cooler on stage, allowing performers to stay more comfortable under the "bright lights." Users won't have to deal with the hassle and expense of frequent lamp replacements either, because the ELED Fresnel's long-life LEDs are rated at 100,000 hours under normal operating conditions.
"An LED-powered Fresnel is an idea whose time has definitely come, and it's something our customers have been asking for," said Eric Loader, director of sales for Elation Professional. "There will always be a huge demand in the theatrical market for a basic Fresnel to use as a white light or to put your own custom color filter on. Our new ELED Fresnel is such a straightforward Fresnel, but it's also more than that because it offers the advantages of LED technology, such as cool operation, low maintenance and energy efficiency. With its advanced LED light source, it's definitely not your father's Fresnel!"
The ELED Fresnel is also advanced in the many professional features it offers, giving users the tools to light up any type of stage performance. It features a built-in strobe and 0-100% electronic dimming. It also comes equipped with a 10° to 50° manual zoom for zeroing in on individual performers. Additionally, the unit includes adjustable barn doors, for a variety of flat, square and circular beam shaping options.
Internal DMX control gives operators complete command over dimming and strobing. Another convenient feature is a bright, easy-to-navigate LCD Menu Display on the rear of the unit.
The ELED Fresnel comes with both 3-pin and 5-pin DMX connection, and it includes a multi-voltage internal power supply. The unit measures 14.5"L x 9.84"W x 14.5"H, and weighs 11.6 lbs. The MSRP of the ELED Fresnel is $899.95.
Contact
For more information, call Elation Professional toll-free at 866-245-6726 or visit www.elationlighting.com
E-mail:info@elationlighting.com
Web Site:www.elationlighting.com