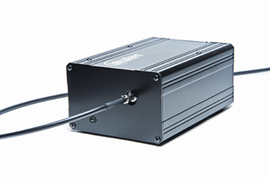 Date Announced: 08 Oct 2008
Pro-Lite Technology LLP (Cranfield, England) has announced the release of the CDS600 & 610 from Labsphere – powerful, miniature spectrometers that make light source measurements in fractions of a second.
Labsphere's CDS600 and CDS610 are compact CCD spectrometers that provide for rapid spectroradiometric measurements of LEDs and other light sources from 250 to 1000nm. When combined with Labsphere's purpose-designed light source analysis software, LightMtrX, the CDS600 and 610 will provide for increased throughput and improved product performance and quality.
The CDS600 & 610 spectrometers are offered with a variety of interchangeable sampling optics to suit different types of measurement. Light source parameters that can be determined include total flux when used with an integrating sphere, luminous intensity and illuminance. The LightMtrX software will also compute the chromaticity, colour temperature, dominant wavelength and colour rendering of the device under test.
More details at: http://www.labsphere.com/productdetail.aspx?id=832
About Pro-Lite:
Pro-Lite is a specialist distributor providing value-added service to the laser and optical radiation measurement communities in the UK and Ireland. Pro-Lite supplies lasers, laser safety eyewear, laser power and energy meters, precision opto-mechanics, as well as a complete spectrum of equipment for measuring optical radiation and the optical properties of materials.
Contact
Robert Yeo, Pro-Lite Technology LLP Tel: +44 (0) 1234 436110 Fax: +44 (0) 1234 436111 Mob: +44 (0) 7734 176487
E-mail:robert.yeo@pro-lite.co.uk
Web Site:www.pro-lite.co.uk