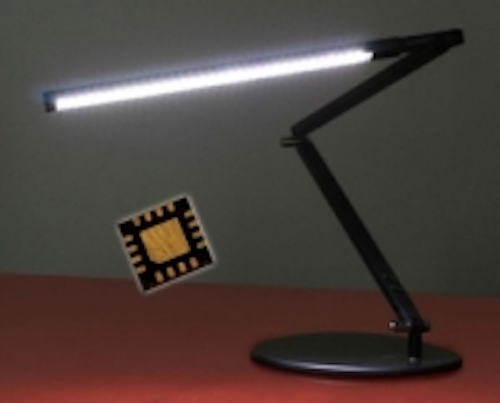 Date Announced: 07 Oct 2008
Chandler, AZ (September 29, 2008) - Rogers Corporation, a recognized leader in manufacturing of high-performance specialty material products, introduces their new dur-E-volt™ high voltage, constant frequency peak current mode control LED driver.
Using the dur-E-volt LED driver, an LED string is driven at a fixed current that is independent of the supply voltage. This enables constant light output and enhanced device reliability. The dur-E-volt LED driver provides efficient operation of high brightness LEDs (HBLEDs) from voltage sources ranging from 8VDC to 450VDC and currents ranging from a few mA up to over 1A. LED dimming is controlled by adjusting the duty cycle of the PWM input pin or adjusting the voltage to the dimming input (LD/Linear Dimming) pin.
When asked about the new dur-E-volt LED driver, Rob Kimball, general manager of Driver Electronics Solutions at Rogers, stated, "LEDs represent the lighting of the future—not only in TVs, but in general lighting. Someday soon, we'll see LEDs used to light homes, commercial and industrial buildings, as well as architectural and decorative lighting applications. With its wide input voltage range, our new LED driver meets the needs of these various market segments and applications."
The dur-E-volt LED driver can handle from one to hundreds of LEDs in series or parallel combinations, which means it uses fewer components, reducing a manufacturer's Bill of Materials. It also offers the features that general lighting OEMs and LCD TV makers are looking for in an LED driver: exceptional efficiency (about 90 %,) small size and superior heat dissipation.
All of Rogers' IC drivers, including the new dur-E-volt LED driver, are RoHS (Restriction of Hazardous Substances) and WEEE (Waste of Electric and Electronic Equipment) compliant. To review a technical data sheet with reference circuit designs, visit www.rogerscorporation.com/durel then click on Literature and scroll down driver data sheets.
Samples of the leadless / lead-free 4X4 QFN LED driver are currently available from stock. To obtain samples, place orders for the dur-E-volt LED driver, part number D711A, or to find out more about Rogers' entire line of DUREL® brand EL lamps and drivers, contact Rogers' customer service at: durelcustomerservices@rogerscorporation.com or 480-917-6000.
About Rogers Corporation
Rogers Corporation (NYSE:ROG), headquartered in Rogers, Conn., is a global technology leader in the development and manufacture of high performance specialty material products for a variety of applications in a wide range of markets including: portable communications, consumer products, communication infrastructure, ground transportation, and aerospace and defense. Most of the Company's products are covered by trade secrets or patents. Rogers operates manufacturing facilities in Arizona, Connecticut, and Illinois in the U.S., in Gent, Belgium and in Suzhou, China. Asian sales offices are located in Japan, China, Taiwan, Korea, India and Singapore. Rogers has joint ventures in Japan and China with INOAC Corporation, in Taiwan with Chang Chun Plastics Co., Ltd. and in the U.S. with Mitsui Chemicals, Inc. The world runs better with Rogers.®
Contact
Connie Becker, Rogers Corporation
E-mail:connie.becker@rogerscorporation.com
Web Site:www.rogerscorp.com