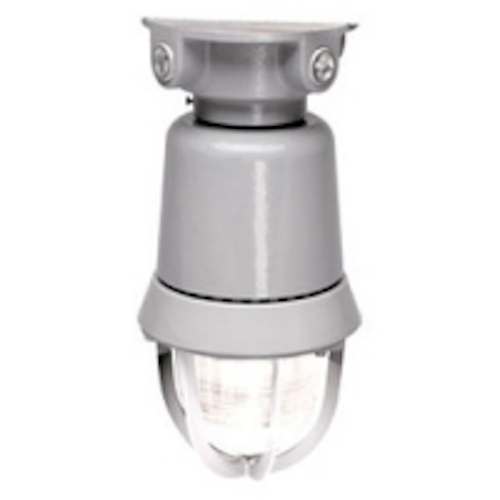 Date Announced: 22 Oct 2008
It is the first LED Class I, Division 1 luminaire for general illumination in hazardous locations. It is built to perform effectively and economically in areas that may be difficult to service, expensive to shut down, or any location requiring an increased degree of safety.
Engineered for high reliability and performance, an integral aluminum extrusion provides safe and effective heat transfer from both the LED and the driver to the outside environment. High-performance LEDs, a solid state electronic driver and internal optic provide light where you need it. At only 37 Watts, the system operates at a fraction of the operating cost of incandescent technologies.
The results include improved system performance, superior lumens per watt and significant lifetime cost savings. Compared with conventional lighting, the EV LED luminaire consumes up to 75% less energy and typically lasts as long as 60,000 hours or more.
The EV LED series is engineered and manufactured around safety, increased product value and lower cost of ownership. When compared to the standard incandescent luminaire, the EV LED is a durable, shock resistant light source providing up to 30X greater life and 75% energy savings.
EV LED Benefits
· Enhance safety and productivity
· Reduce operation and labor costs
· Reliable performance in any environment -30º to55ºC, Type 4X and IP66 rated
About Cooper Crouse-Hinds
Headquartered in Syracuse, N.Y., Cooper Crouse-Hinds integrates a comprehensive line of electrical and instrumentation products with expert support, industry insights and local availability to improve safety and productivity in the most demanding industrial and commercial environments worldwide. Cooper Crouse-Hinds manufactures over 100,000 electrical construction materials, including conduit and cable fittings; enclosures; plugs and receptacles; industrial lighting fixtures; signals and alarms; controls and electrical apparatus; commercial outlet boxes and hubs; and specialized military, aerospace, and commercial interconnect products branded Cooper Interconnect. Cooper Crouse-Hinds electrical construction products are sold worldwide and meet all local and international code requirements. They are used in general construction or in harsh and hazardous environments across the globe, performing to the highest standard of safety and reliability. For more information, visit www.crouse-hinds.com.
Contact
Michael Neary Cooper Crouse-Hinds Wolf & 7th North Streets Syracuse, NY 13208
E-mail:michael.neary@cooperindustries.com
Web Site:www.crouse-hinds.com