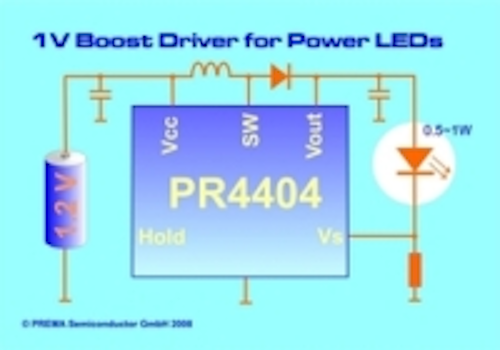 Date Announced: 07 Oct 2008
The new PR4404 is a LED driver providing more than 150mA out of one battery cell and up to 300mA from two batteries for one to three power LEDs. A hold input allows controlling the LED brightness via a PWM signal or switching the LED from a microcontroller.
You need only a few components to realize applications like flash lights, blinking lights or LCD backlighting in a cost-efficient way with small board sizes.
Several applications and circuits can be found in the comprehensive data sheet. Samples of the PR4404 are available upon request.
Contact
PREMA Semiconductor GmbH, Dipl.-Ing. Anne Stroot Application and Project Management Phone:+49-6131-5062-202 Email: anne.stroot@prema.com
E-mail:prema@prema.com