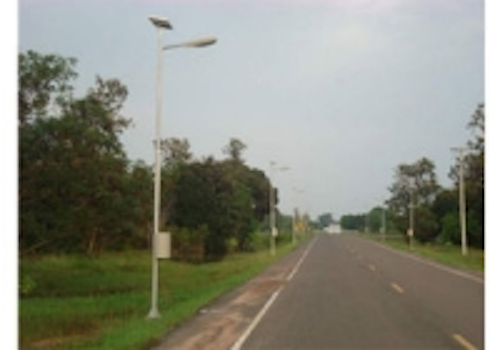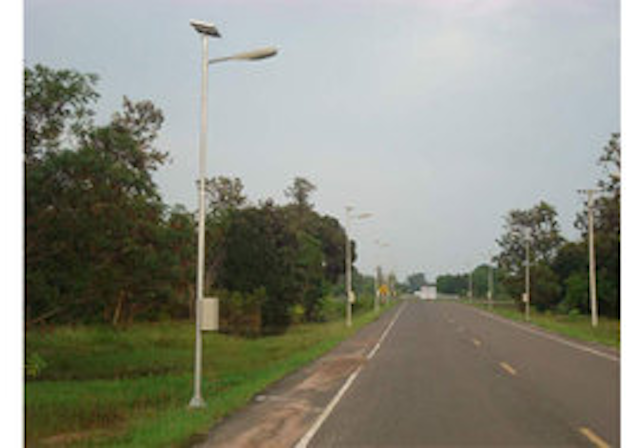 Date Announced: 07 Oct 2008
The latest high power LED street lights from European leader JolietTechnology, coupled with ultra efficient photovoltaic panels offers a new generation of energy efficient, pollution free solar street lighting solutions.
The advantages of cost effective LED lighting for streets, crossings, parking areas, gardens and public areas compared to conventional sodium lamps are undeniable. Adding a photovoltaic power source offers a new dimension.
The new 'Cleanstreet' solar LED street light from Joliet Technology is an integrated mast head fitting which employs two 130Wp photovoltaic modules and a electronic controller to charge batteries which operate the 56W LED lamp unit. The advanced system controller offers a night/day sensor for automatic switching.
In addition to the average 80% reduction in power consumption provided by LED lighting in comparison to most conventional systems, The Joliet 'cleanstreet' solar lamp can be installed in remote areas without the need for expensive cables and trenching works.
Extensive information and assistance in choosing the most appropriate LED street light is available at www.joliet-led-streetlight.com
Joliet Technology is an international supplier of renewable energy equipment operating from headquarters in Northern Spain with offices in France, and the United Kingdom.
The company's general philosophy is to provide end users with well designed, user friendly equipment that can be easily installed and requires little or no maintenance. Above all the management believes that renewable energy based products should offer customers a real alternative to conventional energy sources without attracting a premium cost.
Contact
Joliet Technology
E-mail:info@joliet-europe.com
Web Site:www.joliet-europe.com