Diodes Inc. LED Drivers Bring Smaller Footprint and Energy Savings to Lighting Applications
Oct 6th, 2008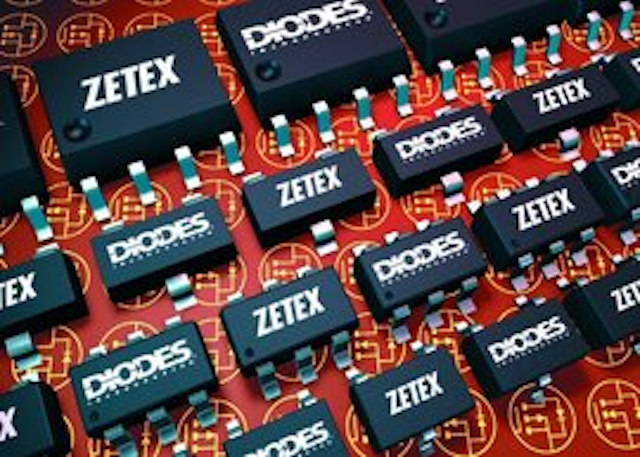 Date Announced: 06 Oct 2008
Dallas, TX … Diodes Incorporated (NASDAQ:DIOD) further extends its Zetex LED Driver Series with the introduction of three new miniature LED drivers that improve accuracy and thermal performance.
Provided in TSOT23-5 and thermally enhanced DFN6, the highly integrated ZXLD-1352, -1356 and –1366 deliver adjustable output currents of 350mA, 550mA and 1A, respectively, need the support of just three discrete external components, and suit a broad range of automotive, architectural and industrial lighting applications.
The ZXLD drivers are continuous mode, inductive step-down converters, specifically designed for driving single or multiple high brightness LEDs, and characterized by their ease of configuration and operation. Nominal output current, set by a resistor, is easily adjusted by applying a PWM or DC voltage control signal, and allows precise matching of brightness requirements. A low-level control signal turns the output off and puts the driver into standby.
The ZXLD1356 and ZXLD1366 provide an output current accuracy of typically better than 1%, providing users with highly precise current matching at working voltages up to 60V. Capable of producing output powers of 30W and 48W respectively, these TSOT23-5/DFN63, 3mm x 3mm packaged drivers support up to 15 LEDs, and an array of applications requiring minimum footprint and maximum efficiency.
The ZXLD1352 operates from a 7V to 30V supply, and is capable of producing an output current of up to 350mA. This TSOT23-5, 2.8mm x 2.9mm packaged driver provides up to 8W of power for driving chains of up to 10 LEDs. With a large PWM dimming ratio of 1000:1, the driver offers highly flexible brightness control and accurate color mixing.
Available now from authorised distributors, at 1,000 quantity the ZXLD1352 (TSOT23-5) is priced at 0.98USD, the ZXLD1356 at 1.32USD and 1.40USD respectively for TSOT23-5 and DFN6 variants, and the ZXLD1366 at 1.82USD and 1.92USD respectively for the same package options. Delivery is 4-6 weeks in production volumes.
About Diodes Incorporated:
Diodes Incorporated (Nasdaq: DIOD), an S&P SmallCap 600 and Russell 3000 Index company, is a leading, global manufacturer and supplier of high-quality, application-specific, standard products within the broad, discrete and analog semiconductor markets. We serve the consumer electronics, computing, communications, industrial and automotive markets. Our products include diodes, rectifiers, transistors, MOSFETs, protection devices, functional specific arrays, amplifiers, comparators, Hall-effect sensors, temperature sensors, power management devices (including LED drivers, DC-DC switching, regulators, linear voltage regulators and voltage reference), and special function devices, including USB power switch, load switch, voltage supervisor and motor controllers.
The Company has corporate offices in Dallas, Texas. Sales, marketing, engineering and logistics offices are in Southern California. Design centers are in Dallas, San Jose, Taipei, England and Germany. Wafer fabrication facilities are in Kansas City, Missouri and Manchester, England. Two manufacturing facilities are in Shanghai, China, one in Neuhaus, Germany, and there is a joint venture facility in Chengdu, China. Engineering, sales, warehouse and logistics offices are in Taipei, Hong Kong and Manchester, England. Sales and support offices are located throughout the world. For further information, including SEC filings, visit our website at http://www.diodes.com.
Contact
Reader information and inquiries: Diodes Incorporated/Zetex Inc. 700 Veterans Hwy., Hauppauge, NY 11788 Tel: 631-360-2222 Fax: 631-360-8222 Editorial information and feature article opportunities: Jeffrey Koeppicus, Impact Marketers, Inc. 231 Victory Dr., Mass. Park, NY 11762 Tel: 516-797-7541 • Fax: 516-797-8129 impact@optonline.net October 1, 2008 FOR IMMEDIATE RELEASE:
E-mail:usa.sales@zetex.com
Web Site:www.zetex.com