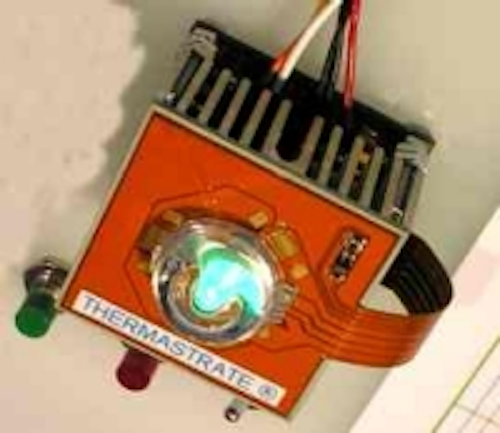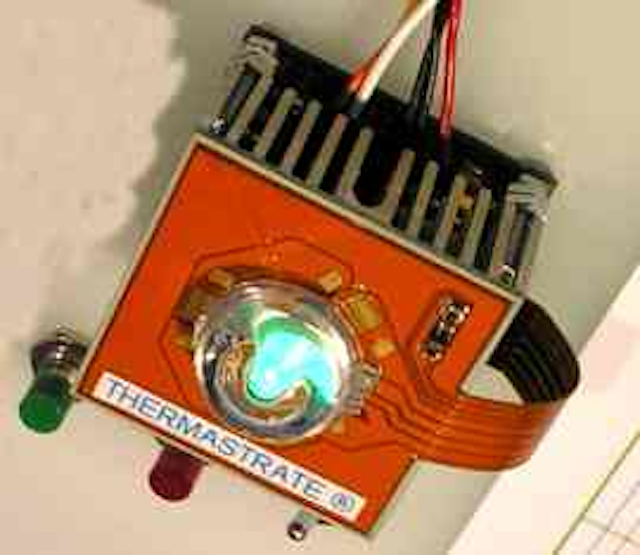 Date Announced: 09 Dec 2008
Thermastrate® used their revolutionary new technology to build an HB-LED demonstrator for this year's Electronica exhibition.
This application of our Flexitherm® technology is an excellent practical demonstration of what can be achieved with our new Direct-to-Heatsink construction.
It fulfils the objectives of the project, which was to provide a solution that thermally out-performs conventional MCPCBs, whilst adding functionality and reducing solder interconnects, with the inclusion of a flexible tail for connection to the control PCB. The result is a thermally efficient module with Best-In-Class performance and improved reliability producing a neat and compact, integrated solution.
The construction of the Flexitherm® circuit relies on our Class-leading ceramic insulation layer, which achieves excellent electrical isolation, whilst optimising thermal conductivity.
The ceramic layer is typically 35 microns thick, possesses a thermal conductivity of over 6W/mK and produces an isolation voltage of over 1,000 Vdc between the copper circuit and aluminium heatsink.
When supplied on flat Aluminium baseplate (2mm thick) Flexitherm® has a thermal conductivity of over 92 W/mK and Ultratherm® an astounding 124W/mK which are in the region of 2 to 3 times greater than that of conventional MCPCB materials.
Furthermore by constructing the circuit directly on the heatsink, removes the need for mechanical assembly and thermal coupling with Thermal Interface Materials, so reducing cost whilst further improving performance.
Contact
Nick Atkinson Thermastrate Limited Unit 2W, Admiral Business Park Nelson Way Cramlington Northumberland NE23 1WG
E-mail:Nick.Atkinson@Thermastrate.com
Web Site:www.Thermastrate.com