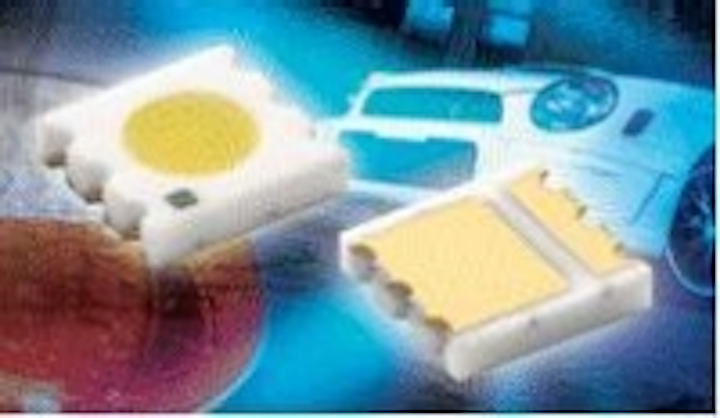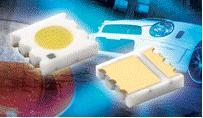 Date Announced: 23 Dec 2008
Devices Combine Low Thermal Resistance Down to 25 K/W and High Optical Power From 5600 mcd to 14000 mcd for High-Volume Applications
MALVERN, Pa. — Dec. 17, 2008 — Vishay Intertechnology, Inc. has released the industry's first series of high-intensity white power SMD LEDs in the CLCC-2 flat ceramic package to offer InGaN/TAG on sapphire technology. Designed to reduce costs in high-volume applications, the VLMW84.. devices offer low thermal resistance of 25 K/W and high optical power from 5600 mcd to 14000 mcd.
With an ultra-low profile of only 0.75 mm, the CLCC-2 flat ceramic package of the VLMW84.. LEDs allows the additional current drive for a maximum light output while maintaining a high service life of up to 50,000 hours, making them ideal light sources in space-limited applications where thermal management is a key consideration.
The new devices are optimized for display backlighting and illumination in automotive and transport, consumer, and general applications. An eco-friendly alternative to CCFL display backlighting, the Vishay CLCC-2 LED offers excellent efficiencies in brightness, lifetime, and power savings in a compact package (3.3 mm x 3.4 mm). Typical end products include flashes for cameras; emergency lighting and signs; and automotive instrument panels and exterior lighting, such as brake lights and turn signals.
The LEDs offer a typical luminous flux of 27000 mlm and optical efficiency of 40 lm/W at 100 mA. The devices feature a luminous intensity ratio per package unit of IV max/IV min ≤ 1.6, forward voltage up to 5 V, and 60° half-intensity angle.
The VLMW84.. LEDs are compatible with IR-reflow solder processes, in accordance with CECC 00802 and J-STD-020C. Preconditioned according to JEDEC Level 4 standards, the CLCC-2 flat package is lead (Pb)-free and RoHS-compliant. The devices are automotive qualified AEC-Q101 and offer an ESD-withstand voltage up to 1 kV in accordance with JESD22-A114-B.
Samples and production quantities of the new VLMW84.. high-intensity white power SMD LEDs are available now, with lead times of eight weeks for larger orders.
Vishay Intertechnology, Inc., a Fortune 1,000 Company listed on the NYSE (VSH), is one of the world's largest manufacturers of discrete semiconductors (diodes, rectifiers, transistors, and optoelectronics and selected ICs) and passive electronic components (resistors, capacitors, inductors, sensors, and transducers). These components are used in virtually all types of electronic devices and equipment, in the industrial, computing, automotive, consumer, telecommunications, military, aerospace, and medical markets. Its product innovations, successful acquisition strategy, and ability to provide "one-stop shop" service have made Vishay a global industry leader.
Contact
Vishay Intertechnology Ph: 619-336-0860
E-mail:info@vishay.com
Web Site:www.vishay.com