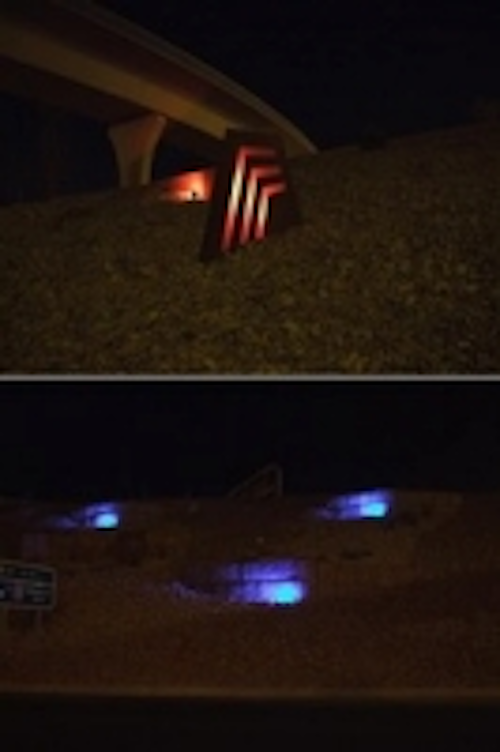 Date Announced: 04 Dec 2008
W-DMX by Wireless Solutions is a critical component in the beautification of New Mexico's key Interstate interchange, the "Big-I", where Interstates 25 and 40 intersect. The Big-I landscaping project is the result of a combined effort between the state of New Mexico and the City of Albuquerque. Landscape lighting is one part of the $10 million project to beautify the interchange located at the heart of Albuquerque.
The Big-I landscape project contains many elements. Programmed lighting "paints" the landscape and art features. Controlled by a single W-DMX wireless transmitter and multiple W-DMX receivers, four programs light walls, trees, and art pieces.
Morrow Reardon Wilkinson Miller, Ltd. Landscape Architects (MRWM) specified W-DMX after consulting with local lighting manufacturer's representatives, Resource Lighting, Inc.
"The project, due to its complexity and size, required the use of wireless DMX," explains Brian Verardo of MRWM. "Eliminating the DMX cabling means less maintenance and increased long term reliability, particularly in the outdoor environment. Lighting fixtures are LED, the cost effective and environmentally conscious choice."
Contractors for the Big-I landscape project are Mountain West Golfscapes, Inc. of Peralta, NM and electrical subcontractors are Northridge Electric, Inc. of Albuquerque.
"With locations that cover almost a square mile, this project does not lend itself to traditional DMX wiring methods," says Andrew Feldman of Resource Lighting. "We chose W-DMX for its flexibility, signal robustness and lack of interference. An Omni-Directional 8 dB antenna, mounted on a fifteen-foot pole, was chosen to transmit the programmed LED show to six separate Outdoor R-512 receivers. All receivers use the standard 2 dB antennas.
"By using the W-DMX system, the City of Albuquerque can easily add additional receivers with directional antennas to add more controlled components along the I-25 and I-40 corridors, thus enabling the true flexibility of W-DMX."
Distributors TMB supplied the W-DMX equipment to Resource Lighting. Says TMB's Kent Flemming, "TMB provides support for suppliers to many of the world's leading productions and installations. We sell and recommend Wireless Solutions' W-DMX equipment with absolute confidence, based on hundreds of successful installations. Wireless Solutions are specialists in the field of RF. They developed the first fully FCC compliant, plug-and-play wireless DMX system. Their 1 mhz per channel spread spectrum frequency hopping completely eliminates interference with Wi-Fi, walkie-talkies and wireless microphones and monitors. W-DMX is the only choice for those high-profile jobs where noise immunity and flawless performance is essential."
Contact
Bill Andersen ba@tmb.com 818.899.8818
E-mail:tmb-info@tmb.com
Web Site:www.tmb.com