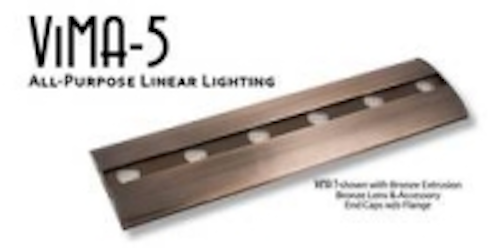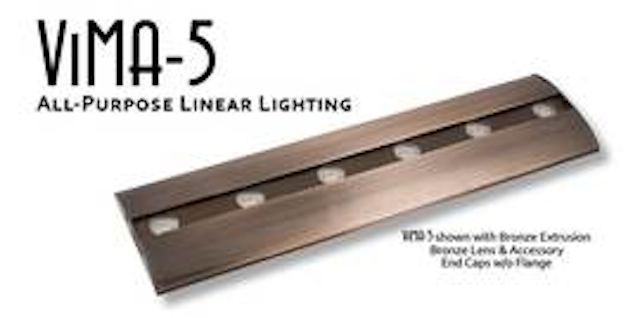 Date Announced: 11 Dec 2008
For Immediate Release
Visual Lighting Technologies, a premier lighting manufacturer of LED and Fiber optic lighting products, introduces ViMA–5 All-Purpose Lighting System.
ViMA-5 represents a significant step forward in linear lighting, with an ultra-thin profile (just ½") and a recessed LED placement that virtually eliminates LED glare. In the home, office, retail or hospitality environments, ViMA-5 provides bright and even light for under-cabinet, shelf or task lighting - and ViMA-5 is fully dimmable from task to accent levels!
Through energy-saving technology, Title 24-compliant ViMA-5 consumes just 7.2 watts of energy per foot (40 lumens per watt / 288 lumens per foot) on 24v DC power source. ViMA-5 also offers a choice of 3000K, 3500K or 4000K color temperatures and features advanced LED and thermal technology for 50,000 hours of maintenance-free life.
Lighting designers that have used ViMA-5 say, "There is no other product out there like this, finally someone has developed a specification grade linear product. It has a thin profile and the LED placement eliminates any glare making this a great product for many standard and custom applications."
In addition, ViMA-5 offers extensive customization options that are unique in the linear LED marketplace. Visual Lighting Technologies has long specialized in custom lighting applications and counts a Who's Who of luxury retailers - from Cartier to Garrards to Fred Leighton and many more – in their client list. Now Visual Lighting Technologies is leveraging that core competency – the ability to tailor its applications to client's specific lighting needs – in the new realm of linear LED lighting.
ViMA-5 is available in custom lengths in 6" increments and multiple finish options (Bronze, Black, Silver, White and Custom) to match a wide range of linear lighting needs. ViMA-5 can accommodate up to 48 LEDs, an 8 foot long piece of continuous aluminum extrusion from a single power source, and locking input and output connectors make for easy daisy-chain wiring. Made in the USA.
About Visual Lighting Technologies:
Visual Lighting Technologies has earned a reputation as the premier source for specification grade fiber optic lighting systems. On a wide range of applications - from showcase lighting for prestigious jewelers to impressive architectural and residential projects - our fiber optic systems fulfill the imagination and outperform the competition. Our new collection of LED fixtures offers options for both decorative and functional use, with exciting fixtures for spot, accent, display and pathway lighting.
Whether your project calls for fiber optics or LEDs, we're proud to provide the finest product lines available: fiber optic fixtures and illuminators from Danish manufacturer Roblon, brilliant large-core fiber from Lumenyte International Corporation, and a wide range of stylish LED fixtures from ILTI LUCE of Italy. At Visual Lighting Technologies, we also take pride in our outstanding project support. With in-house lighting designers, industry-leading turnaround time, years of installation and technical expertise and reliable follow-through, Visual Lighting Technologies delivers first class products and sales support for both its fiber optic and LED lighting systems.
Contact
9 Rancho Circle Lake Forest, CA 92630 Ph: 949-581-9398
E-mail:davidsmoler@visual-lighting.com
Web Site:www.visual-lighting.com