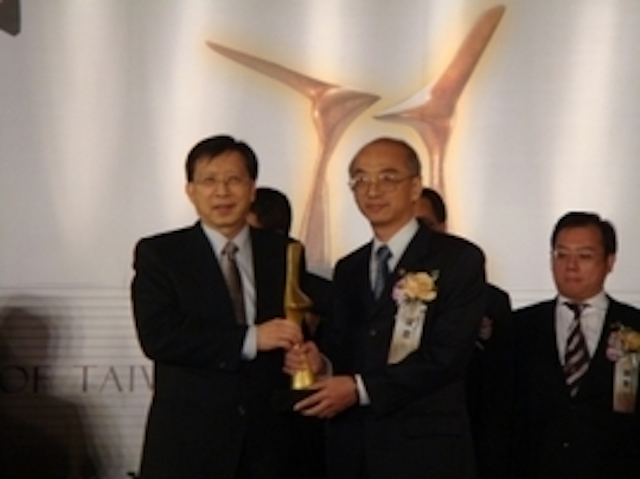 Date Announced: 22 Dec 2008
China Youth Career Development Association (CYCDA) announces 16 winners of Outstanding Taiwan and Overseas Entrepreneur Award of 2008, including 10 outstanding Taiwan entrepreneurs and 6 outstanding overseas Chinese entrepreneurs.
This prestigious award recognizes the Taiwanese leading entrepreneurs for their remarkable achievements to the Taiwanese and global economies and their dedication to the entrepreneurial spirit.
The 16 winners are selected through a stringent evaluation process by an independent judging panel. Among the 10 outstanding Taiwan entrepreneurs, the chairman of Macroblock Inc., Dr. Li-Chang Yang (the person on the right in photo), is honored with this outstanding entrepreneur award.
Dr. Li-Chang Yang recalls, "It is never easy to start a business from scratch, not to mention about leading the business to the success and keeping it. I was so confident even though there were only 3 employees, including myself, when starting this company. I saw the opportunities in LED market, set the goal, and stuck to it. The willpower, determination, and employees' efforts all together made Macroblock work and succeed."
Contact
Macroblock Inc. Floor 6-4 No. 18, Pu-Ting Rd. Hsinchu 30072, Taiwan, R.O.C. Ph +886-3-579-0068
E-mail:marketing@mblock.com.tw
Web Site:www.mblock.com.tw