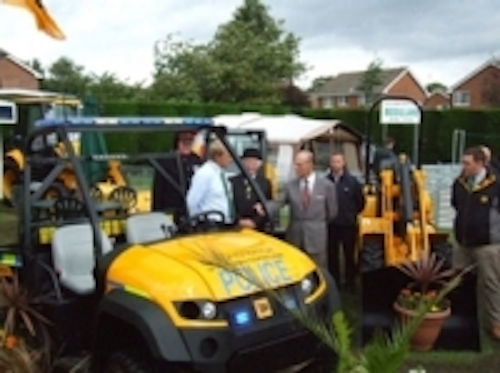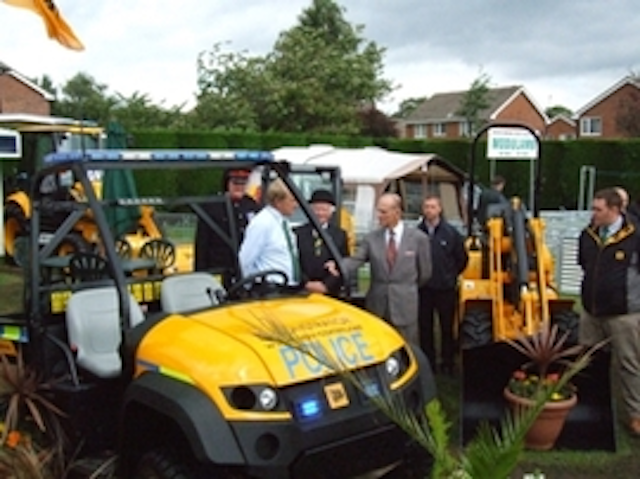 Date Announced: 05 Dec 2008
Nav-comm, the UK designers and manufacturers of a range of revolutionary new LED lighting systems for emergency vehicles, received a right royal boost when HRH Prince Phillip stopped by to chat with them about their cutting-edge LED technolgy.
Spurred on by the international success of their Blue Light business, nav-comm has recently launched an Amber light version of their blue systems. Nav-comm chose to show off their new Amber light range on new JCB diggers and groundcare vehicles on the JCB stand at the Great Yorkshire Show and were honoured when Prince Phillip made a point off stopping by to inspect their latest Amber Light-bar.
Some 126,376 visitors attended the region's largest annual countryside event on 250-acre Great Yorkshire Showground on the edge of the spa town of Harrogate. The Queen and Prince Phillip were very welcome guests at the showground and, as the picture shows, HRH Prince Phillip was particularly impressed with the vehicle's nav-comm lights.
James Sheldon, Technical Director of nav-comm, said "Its a little early to ask if we can start displaying the "By appointment Royal Crest"but I think Prince Phillip was intrested and impressed that nav-comm British Lights were on JCB British Equipment- a double whammy and a refreshing change from all things American. His grasp of LED technolgy was surprisingly advanced and he asked us some astute questions which I'd have expected from a knowledgeable fleet-buyer.He was particualy pleased that we supply extensively to both the emergency services as well as to overseas customers and he commented that these are particualy worthwhile areas to supply to."
UK Electronics back on the up again
Developed by Nav-Comm, a specialist in emergency vehicle electronic systems, the new generation of high power, surface mount LEDs are brighter, last longer and use less power than traditional halogen and strobe lighting currently used in beacons on emergency vehicles such as police, fire and ambulances.
As the new lighting units have a physically lower profile they cause less drag on the emergency vehicle at top speed making it more fuel efficient and go faster! Reducing Carbon Foot print for there operators.
The units are designed not to interfere with other vehicle onboard equipment, such as life saving machines in ambulances and satellite navigation equipment and communications equipment.
LEDs offer significant energy savings over conventional halogen lamp sources, particularly when a lamp is filtered to produce coloured light.
In this application the energy consumption of an LED solution can be as little as 10% of an equivalent halogen lamp product.
The latest white LEDs offer luminous efficiencies that are typically 45 lumen/W which is two to three times that of a halogen lamp in conjunction with 100,000 hours life expectancy. This starts to make sense for scene illumination from on board a truck.
This keeps the emergency vehicles on the road and out of the workshops, again saving money time and the requirement for spare vehicles.
The system was developed in partnership with Merseyside Police's Liverpool North Equipment Office. The first nav-comm led light bar was produced in 1995.
The new product has been in development for over two years and is now in mass production in the UK with major interest being shown by emergency vehicle users across the UK , Europe. This new LED Double decker light bar system is a world first for nav-comm. The Army has also ordered a bar from nav-comm that will be fitted to military vehicles with ZERO radio emissions for use on convoy vehicles and armoured vehicles.
"This is a realy exciting time for everybody involved with this project," Sheldon continued. "We have approached a number of UK companies to produce the PCBs and populate them as we want to keep the build in the UK. Thanks to the help of UK manufacturing we are changing the appearance and performance of emergency vehicles across the UK and Europe."
Sheldon added: "We see this as an exciting and innovative project with UK Electronics manufacturing which generally seems on a downward slide. Partnerships in UK manufacturing will have the potential to make the UK world leaders in emergency vehicle lighting. In addition to the emergency vehicle market, we continue to find new applications where LED light technology is of huge benefit over conventional filament bulb technology."
Because of the low power consumption, the new style lights are also ideally suited for electric vehicles and the new generation of hybrid cars which run on a combined petrol and electric engine.
Nav-comm works with the UK Police, Home Office and Emergency service to produce a range of equipment designed specifically for UK and European vehicles, these include: Digital Video recorders and Touch screen switching systems for use in vehicles.
Contact
Nav-comm Whinburn Hall Hollins Lane Utley Keighley BD20 6LU T.01535 60 36 60
E-mail:sales@nav-comm.net
Web Site:www.nav-comm.net