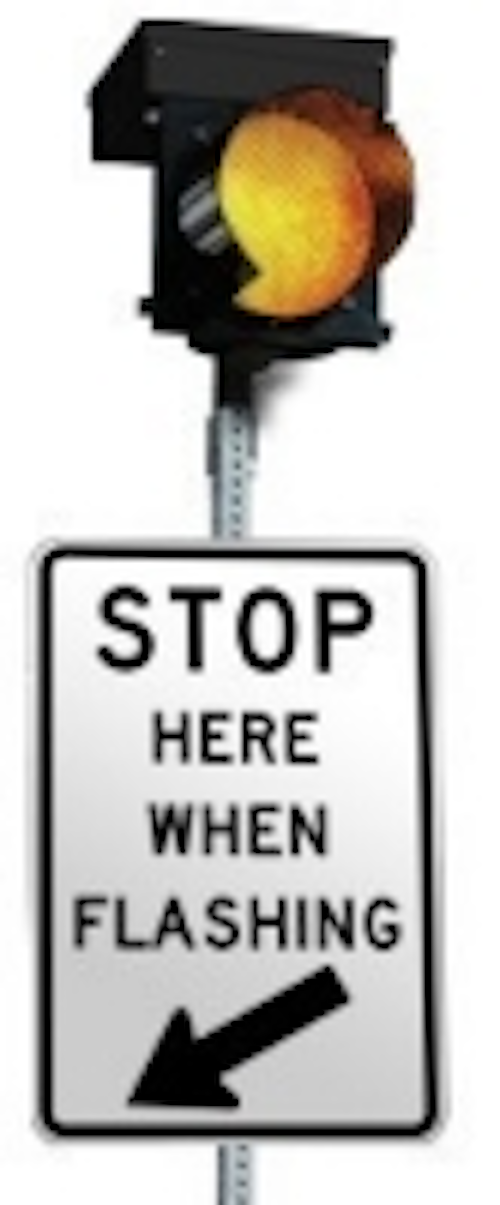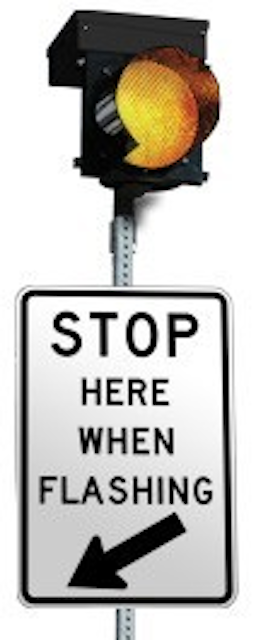 Date Announced: 29 Dec 2008
VICTORIA, BRITISH COLUMBIA, CANADA - Carmanah Technologies Corporation (TSX: CMH) has introduced a wireless solar-powered flashing beacon suitable for a range of ITS (intelligent traffic systems) roadway applications. The R838 wireless ITS solar flasher incorporates all components — including solar modules, LEDs (light emitting diodes), and wireless activation technology — within a compact and durable stand-alone device.
Thanks to a partnership between Carmanah and ENCOM Wireless Data Solutions Inc., the R838 wireless ITS solar flasher is equipped with industry-proven ENCOM communications technology for versatile, on-demand remote activation. Using the ENCOM handheld controller, multiple beacons can be activated from up to 500 feet away with the push of a button. As a wireless, stand-alone warning flasher, the R838 offers a versatile and cost-effective way for emergency services and traffic agencies to provide advance warning of road conditions ahead, such as road construction (beyond highway on or off-ramps), emergency-vehicle crossings along fire station routes, approaches to weigh scales and more.
Operating independently of the electric grid, the Carmanah R838 wireless ITS solar flasher provides a reliable signal alternative suitable for remote locations, or anywhere grid access is not readily available. With no need for trenching, cabling or wiring, this stand-alone device installs quickly and easily onto new or existing signposts for fast, economical installations and minimal disruption to traffic. Optionally, each R838 unit can be programmed to specify how long to flash before shutting off automatically. Two-way communications provide visual LED confirmation that one or more signals (up to eight) are currently active at the remote site.
Industry proven to operate reliably in some of the world's harshest climates, Carmanah's solar flashing beacon paired with ENCOM wireless control technology offers an unbeatable alternative for intelligent transportation systems. The wireless R838 wireless ITS solar flasher is available now from Carmanah. For more information, visit http://www.roadlights.com/content/products/R838.aspx
About Carmanah Technologies Corporation
As one of most trusted names in solar technology, Carmanah has earned a reputation for delivering strong and effective products for industrial applications worldwide. Industry proven to perform reliably in some of the world's harshest environments, Carmanah's LED lights and power systems provide a durable, dependable and cost effective energy alternative. Carmanah is a publicly traded company, with common shares listed on the Toronto Stock Exchange under the symbol "CMH". For more information, visit www.carmanah.com.
About ENCOM Wireless Data Solutions Inc.
ENCOM Wireless is a leading solutions provider for wireless ITS applications. Since 1988, ENCOM has been a pioneer in the field of wireless technologies. ENCOM products are designed to provide cost-effective and reliable solutions for a range of wireless data communication applications, including intelligent traffic systems (ITS), supervisory control and data acquisition (SCADA) systems, and wireless networks. For more information, visit encomwireless.com.
Contact
David Davies Tel: +1.250.382.4332
E-mail:ddavies@carmanah.com
Web Site:www.carmanah.com