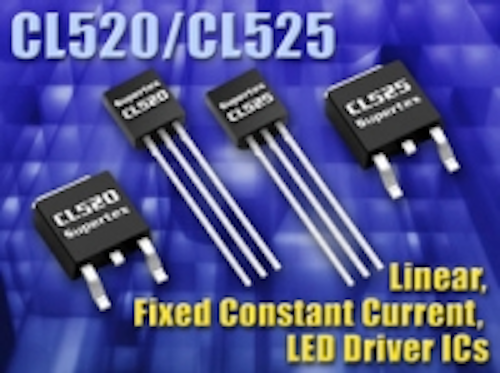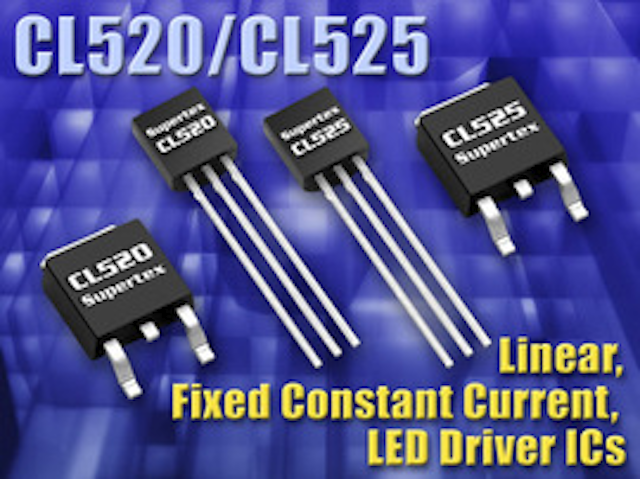 Date Announced: 11 Dec 2008
CL520 & CL525 Are Ideal in Low Voltage LED Lighting
SUNNYVALE, CA Supertex, Inc., a recognized leader in high voltage analog and mixed signal integrated circuits (ICs), today introduced the CL520 and the CL525, two linear, constant current, two terminal LED drivers with only 1.0 volt drop-out and fixed output currents of 20mA and 25mA, respectively. The devices are ideally suited for general lighting applications employing single or multiple LEDs, such as decorative lighting and low voltage signage or channel lighting.
Both ICs feature temperature compensated output currents to maintain consistent LED brightness regardless of temperature. With maximum ratings of 90V, the ICs are able to withstand transients without any additional transient protection circuitry when used as recommended.
"In the growing solid-state lighting market, the CL520 and CL525 fill the need for a cost effective, simple to use, and efficient LED driving solution," states Ahmed Masood, Vice President of Marketing for Supertex. "The low drop-out of these parts allows users to drive LEDs from a lower supply voltage and reduces power dissipation in applications employing either single or multiple LEDs."
CL520 and CL525 are available in TO-92 (CL520N3-G, CL525N3-G) and D-PAK (CL520K4-G, CL525K4-G) packages. They are all Green and RoHS compliant. Samples are available from stock. Lead-time for production quantities is 4-6 weeks ARO. Pricing in 1K quantities is US$0.33 each for CL520N3-G and CL525N3-G, and US$0.47 each for CL520K4-G and the CL525K4-G.
About Supertex
Supertex, Inc. is a publicly held mixed signal semiconductor manufacturer focused on high voltage interface products for use in thetelecommunications, networking systems, medical, automotive and industrial electronics industries.
Contact
Ken Vickers Manager, Marketing Communications Ph: 408/222-4810
E-mail:kennethv@supertex.com
Web Site:www.supertex.com