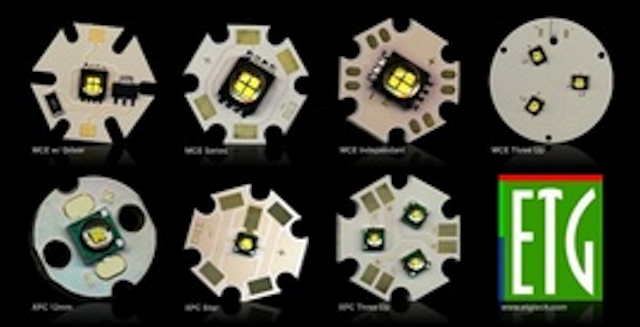 Date Announced: 08 Dec 2008
Los Angeles, CA – ETG Corp. [actually their legal name is ETG Inc.] announced today the introduction of a new family of compact light engine modules featuring Cree XLamp® MC-E and XP family high power LEDs. The MC-E LED features four chips in a single package and is the highest-lumen LED in the award-winning XLamp LED family. The XLamp XP-C and XP-E LEDs are the industry's smallest lighting-class LEDs, measuring just 3.45mm square by 2mm high. Both light engines are ideally suited for luminaries designed to meet the growing demand for energy efficient, long life general illumination products.
The new family of light engines features one to three LEDs wired in either series or parallel for integration with a wide range of LED driver systems. The entire family features standard 2mm thick MCPCBs, with options for thinner or thicker MCPCBs. Wide ranges of input power solder pads are provided standard on each design to further enhance design flexibility. Wire leads to customer's specification can be ordered at an additional cost.
With an input power of 9.8W, the single MC-E version can provide up to 790 lumens at 6000K and up to 605 lumens at 3000K. The three-up MC-E light engine can provide over 2250 lumens at 6000K with an input power of less than 30W. The 1W, single XP light engine, with a foot print as small as 12mm round, can produce a minimum of 100 lumens at 350mA in cool white (5000K-10,000K) and 80.6 lumens in warm white (2600K – 3700K). The XP-C is also available in a 3W module that can provide 240-300 lumens depending upon color temperature.
"ETG was looking for a simple way to get these amazing LEDs into our customer's hands," commented Bernie Eshel, President of ETG Corp. "We are making this ground breaking technology accessible and easy to integrate at a very market sensitive price," he added.
Complete specifications are available, along with design- and application-related assistance at www.etgtech.com. For further information, please contact ETG Corp. at 1-310-202-6400, or visit ETG Corp. online at www.etgtech.com.
About ETG Corporation
ETG Corporation, founded in 1998, is one of the industry leading providers of LED's and value added SSL. ETG is a distributor for Cree LED products and packager of Cree dice. ETG has enjoyed sustained growth while introducing several innovations to a wide variety of markets. ETG offers design assistance, extensive stock and worldwide logistics.
Contact
ETG, Corp. Technical/Management Bernie Eshel Ph: (310) 202-6400 beshel@etgtech.com
E-mail:anthony@infinilux.com
Web Site:www.etgtech.com