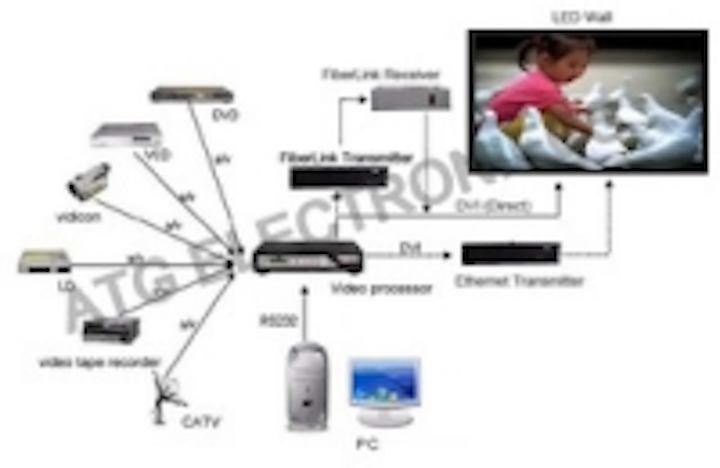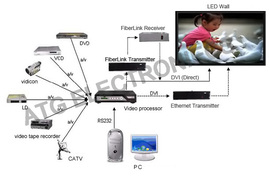 Date Announced: 18 Jun 2008
ATG Electronics® oVision™ V Series Outdoor Video Screens are completely integrated solution which includes LED controllable panels on each module, Video Control System, rigging/stacking frame system, hidden cables, special designed flight cases, adopts an innovative Plug & Play technology. Therefore they function as a huge monitor and they are able to visualize anything in real-time.
ATG Electronics® oVision™ V Series Outdoor Video Screens have been widely used in both large and small sites, industries and organizations.
This LED technology video screen is a dynamic and high-impact huge media tool, able to visualize a complete chromatic range of over 1.6 millions colors pictures makes it become a perfect eye catching tools as well. That's why so many large scale industries, sports complexes, airports, and other venues hit money outdoor LED full color signs to transmit both instant relevant information and advertisements, announcement, public notice.
The displays are not only pulling people's attention but also, the most important thing is, to offer an opportunity to boost and prosper, for those who want to present an outstanding opportunity in a very stable and highly profitable business of their own.
Features & Benefits:
-Video function: full color dynamic video images. Able to rebroadcast wired television, play tape, VCD, DVD video with high fidelity. Realize to do live broadcast and rewind brilliant scene.
-Able to play information on the PC monitor: various letters, graphics, static images and animations.
-Flexible to input all kinds of information. The broadcast fashions can be flowing, going round and round, zooming in & out and the like.
-Clock function:implemented via software.
-Equipped network interface, access to network, share network resource; provided with standard interface of audio output to synchronize the video recourse.
-Synchronize to the CRT of the PC, real-time displaying the appointed pictures, real color video images, TV, camera, DVD signals.
-Broadcast VCD, DVD and the like video programs, support PAL, NTSC, VGA format.
-DVI, VIDEO, S-VIDEO importable.
-Information of planar and three-dimensional of graphics and images can be displayed; layout of letters, graphics, animations and the like can be optionally arranged.
-Multiplicate broadcasting fashions: change view pictures, spread, shift, space switch and so on. Display time can be adjusted arbitrarily, display contents can be played repeatedly.
-Support multi-language displaying.
-Through the CRT previewing display contents.
-Through the operation of the PC, the color and brightness of the led display could be adjusted. Best white balance and natural pictures.
Contact
Contact ATG Electronics Corp. Think Green, Act Green. International Sales Department Tel: +86-21-33932667 Fax: +86-21-33932677
E-mail:sales@atgelectronics.com
Web Site:www.atgelectronics.com