Elation's Opti RGB High Power LED Par Gets New Neutrik™ Connectors And cETL Approval
Jun 11th, 2008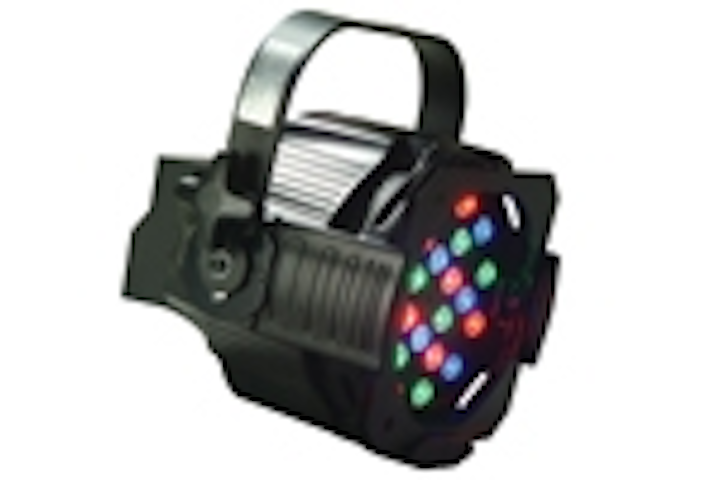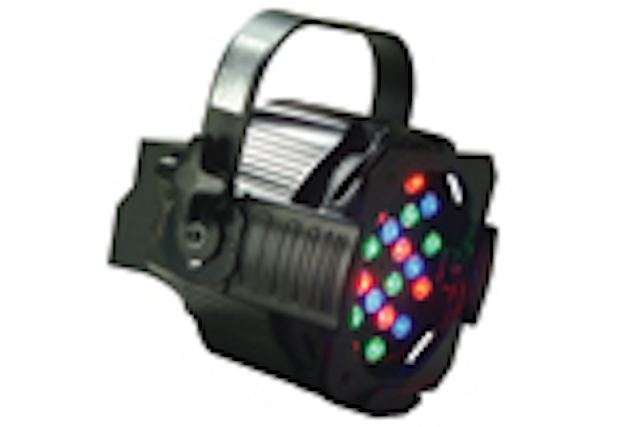 Date Announced: 11 Jun 2008
LOS ANGELES –Elation Professional's Opti RGB has always been a popular stage/production/theatrical light, thanks to its combination of high output, smooth LED RGB color-mixing, low heat emission and energy efficiency – and now it's a more reliable performer than ever. That's because the Opti RGB has switched to using higher-grade Neutrik™ 3-pin Data Connectors for DMX In/Out, improving the connection durability especially, when used by rental /production companies.
With the upgraded Neutrik connectors, lighting operators can be assured there will always be a strong, seamless flow of DMX data from their controller into the Opti RGB, and out from the fixture to other daisy-chained units, said Eric Loader, director of sales for Elation Professional. This will eliminate the possibility of breakage from heavy use, or of weak or interrupted DMX signals from the older XLR connectors, which can sometimes cause spotty performance.
"We wanted to improve the Opti RGB's control connectivity, and we felt the best way to do this was to switch to Neutrik connectors, which are really tops in the market with their exceptional quality and reliability," said Loader.
When it comes to ultra-reliability in an LED color changing fixture, users will also appreciate another major new development that occurred recently with the Opti RGB. The fixture has been awarded cETL approval, a recognized industry standard in both the U.S. and Canada, indicating that it meets the highest levels of quality and safety.
The prestigious cETL seal is awarded only after rigorous testing of a product and its manufacturing facility, noted Loader. He believes that the Opti RGB's cETL status will further broaden the market for the already-popular color changer, allowing it to be used in more venues that require electrical compliance certification throughout North America.
"A growing number of facilities will only allow lighting products that are electrically certified and built to safety standards, because this ensures that the product is professionally built and completely safe to operate," said Loader. "The Opti RGB now bears this distinctive seal of quality, so it can be used anywhere certification is mandatory. It will also be more attractive to rental companies, since it can go anywhere and the cETL label, a recognized equivalent to UL, will assure their customers of its safety and reliability. We are going for both UL and or cETL approvals on more and more products. "
Available in two case models --- black (Opti RGB) or white (Opti RGB Wh) – the Opti RGB is ideal for a variety of applications where color is required: concerts, nightclubs, theaters, churches, productions, trade shows, exhibits and architectural interiors. Featuring 24 powerful 1W LEDs (8 each red, green and blue), it offers full RGB color mixing, allowing users to create an infinite spectrum of colors via DMX control, with 0-100% dimming capability.
Although powerful in output, the Opti RGB's LED lamps are very energy efficient, drawing only 45W at full use. Another benefit of the LEDs is their long operating life, rated at 50,000 hours, which cuts down the time and expense of lamp replacement. Users will also appreciate the low heat generation of the Opti RGB's LEDs, which keeps the temperature cooler and more comfortable on stage or in any environment.
Constructed of sturdy, high-impact aluminum that can stand up to travel, the Opti RGB is also compact and lightweight, making it great for concerts, productions, trade shows, rentals and other applications where portability is required. It measures 11.5" x 8.5" x 8.5" and weighs 11 lbs. An optional 45° lens kit (Opti RGB 45D Kit) and optional barn doors (Opti/BDB) are available (sold separately).
Despite the upgrade to higher-quality Neutrik DMX connectors, the prices of the Opti RGB and Opti RGB Wh have not been changed, making these high-output LED fixtures a better value than ever. Each model's MSRP remains at $699.95.
Contact
For more information, call Elation Professional toll-free at 866-245-6726 or visit www.elationlighting.com
E-mail:jan@fucinipro.com
Web Site:www.fucinipro.com