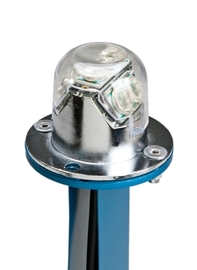 Date Announced: 19 Jun 2008
Nova Electronics is pleased to announce the next generation undercover warning signal: the Hide-A-LED™ X1100. The new X1100 emits over 1100 lumens (white) of light and does not require a central power supply.
The Hide-A-LED™ X1100 features a state-of-the-art, in-line molded power module that delivers a blinding warning signal and offers maintenance-free operation.
By combining the power module, cable and LED head, the Hide-A-LED™ X1100 eliminates common electrical issues caused by exposure to moisture and reduces installation time to a minimum. Faster installations and trouble-free operation offer fleet managers the additional benefit of less vehicle down-time.
• Six (6) Next-Generation High Power LEDs.
• Die-Cast aluminum base – the rugged Hide-A-LED™ X1100 can perform in extreme environments.
• Available in Blue, White, Amber, Red and Green
• Available in 2 or 3 color split combinations.
• Includes 9-foot hookup cable
• 16 Flash Patterns.
• Multiple Hide-A-LED™ Warning Signals can be synchronized with a simple connection.
• Made in USA.
Contact
For more information, contact: Nova Electronics, Inc. 36 Dr. Foote Road Colchester, CT 06415 Phone: 860-537-3471 Fax: 860-537-0656 E-mail: sales@strobe.com Website: www.Hide-A-LED.com
E-mail:sales @strobe.com