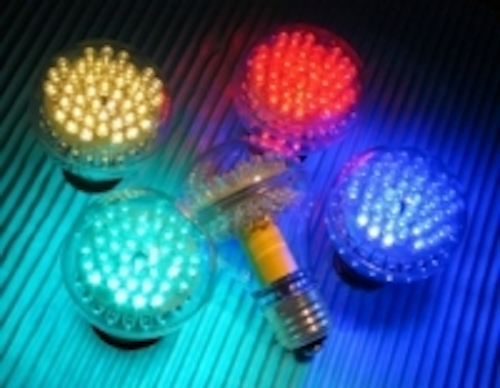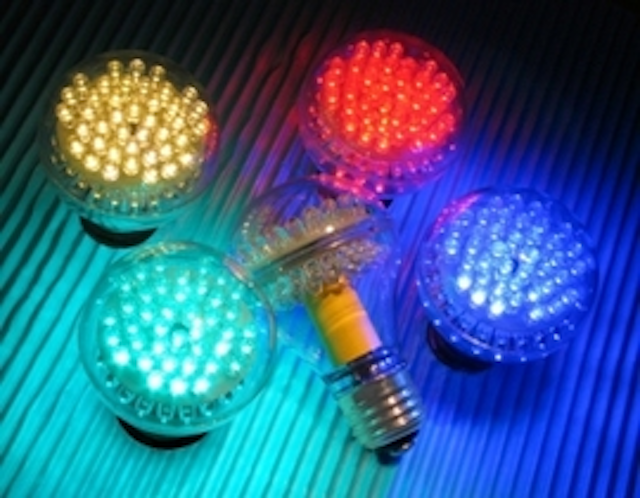 Date Announced: 17 Jun 2008
LEDtronics announces 3D A19-style LED bulbs that offer vivid colorful lighting in many versatile applications. The 3D TRF-A19 series LED bulb comes in a UV-protective, plastic A19-shape globe covering that allows the LED light to shine in multiple directions (three dimensions) while still being protected from the environment. These hardy bulbs are perfect in any situation that allows for standard 26mm Edison screw base 120-volt AC attachments.
Applications perfect for this bulb include decorative lighting, receiving docks, tollbooths, low-level beacon warning lights, task lighting, cabinets, displays, back-lighting signs, concealed lighting, retail store shelf lighting, wall sconces, theatre and hotel marquee signs and more.
These A19 incandescent replacement LED bulbs combine today's advanced Indium Gallium Aluminum Phosphide (InGaAlP) and Silicon Carbide/Gallium Nitride (SiC/GaN) Light Emitting Diode (LED) technology, standard electrical bases (e.g. 26mm Edison screw base) and a design that maximizes illumination. With a power draw of just 3.6 watts - 4.32 watts, up to 11-year LED operating life (up to 50,000 hours for white LED) and seven sunlight-visible LED light colors from which to select, solid-state TRF-A19 series décor LED bulbs provide architects, entertainment designers and other lighting professionals with the means to integrate ornamental illumination into maintenance-intensive applications. Integrated current-limited resistors and polarity-protection diodes assure that no circuit modifications are required. Custom frosted/tinted bulbs, multi-colored lamps and special voltages are available, depending upon factory approval. LED bulbs in sizes G25, G40A, S11 and S14 are available as well.
The high-quality TRF-A19 series LED bulbs can directly replace short-life, standard incandescent A19 bulbs, allowing a long life span of up to 100,000 hours or 11 years. Furthermore, these LED bulbs stay cool to the touch and are resistant to shock and vibrations, and will not burn out from being frequently switched on and off. The best part of the TRF-A19 series LED bulbs is their low power usage—they only consume 3.6 watts - 4.32 watts while still creating so much light! These bulbs require no retrofitting kits and will install like a normal bulb, allowing you to painlessly replace old and outdated power-hungry incandescent A19 bulbs. In addition, an optional E27 European screw base is available for qualified customers to fit 27mm screw bases instead of the standard 25mm screw base.
The TRF-A19 series LED bulb comes in red, green, yellow, amber, blue and new, super-bright warm-white and cool-white LED light colors. Other colors can be made as well and are available through custom ordering. Depending on LED light color, these TRF-A19 LED bulbs put out 46 to 225 stunning Lumens.
Solid-state design renders LEDs impervious to shock, vibration, frequent switching, and environmental extremes. With an average life span of 100,000-plus hours (11 years)—up to 50,000 hours for white LED—LED bulbs operate more than 20 to 30 times longer than the equivalent incandescent bulb! Savings from reduced maintenance costs and downtime quickly return the capital investment expenditure! LED bulbs produce almost no heat and require 80% - 90% less operating power than equivalent incandescent bulbs, making them as friendly to the environment as they are to the operating budget.
Founded in 1983, LEDtronics® leads where others only follow when it comes to designing, manufacturing and packaging state-of-the-art LEDs to meet the world's constantly changing lighting needs. Our inventive product line encompasses an array of direct incandescent lamp replacement Based LED bulbs and lamps, low-cost snap-in and relampable Panel Mount LED lamps, high intensity sunlight-visible Discrete LEDs, PCB LEDs circuit board status indicators, surface mount diodes SMT LEDs, full-spectrum rainbow RGB LEDs and Infra-Red (IR) LEDs.
Prices for TRF-A19 Series LED Bulbs retail from $118.20 to $158.40, depending on LED color. Large quantity discounts are available for qualified resellers and distributors. Availability is stock to 4 - 6 weeks for special requirements. TRF-A19 LED bulbs carry a 3-year limited warranty.
Contact
LEDtronics 23105 Kashiwa Court Torrance, CA 90505 ph 1-800-579-4875 or 310-534-1505, fax 310-534-1424
E-mail:jpapanier@ledtronics.com
Web Site:www.ledtronics.com/ds/TRF-A19/