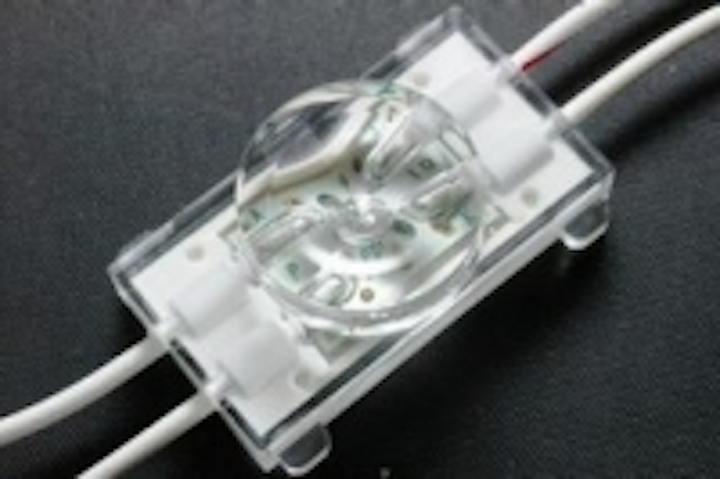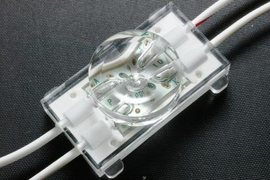 Date Announced: 02 Jun 2008
Alpha-One's "SHINING EYE: AFA002-L" is a white color LED module with special lens developed particularly for the backlight of signboard and indirect illumination.
The traditional way of the backlight for the signboard is fluorescent lamps. However, it costs too much to maintain the lighting unit.
By utilizing our LED module AFA002-L instead of fluorescent lamps, it can be realized to curtail the total running costs to maintain the whole lighting units due to its lower electric consumption by 1/3 and the longer lifetime of about 60000 Hrs.
LEDs have been already applied to backlight, but an uneven light due to the wider pitch between LEDs is sometimes a problem. Alpha-One's AFA002-L can emit perfectly without any uneven light thanks to its excellent lens effect.
Since the LED inside is irradiated at IF=100mA, quite stable light with higher luminosity can be irradiated. In addition, due to the special optical design, very thin and compact billboard is realized. (The ideal thickness: 50mm~60mm)
AFA002-L is supplied as a string which contains 50 LED modules connected with parallel circuit. Since those modules are connected with flexible cable (the pitch between each: 143mm), it would be possible to change the pitch between LEDs when installed and to obtain the various luminosities.
For instance, in case to install module with a pitch of 60mm and the distance between the shining surface and the external surface of billboard is 50mm, 2500 lx of light luminosity can be obtained without any uneven light.
It can be installed outside since it has a rain-proof treatment (IPX3), and is also a RoHS compliant product with mercury free and has energy-saving design (DC5V, 0.5W/pc).
Contact
ALPHA-ONE ELECTRONICS LTD. (JAPAN) FAX: +81-46-292-7113
E-mail:info@alpha1-eg.com
Web Site:www.alpha1-eg.com