Chimera from G-LEC is the first cut-to-fit LED video system
Sep 23rd, 2008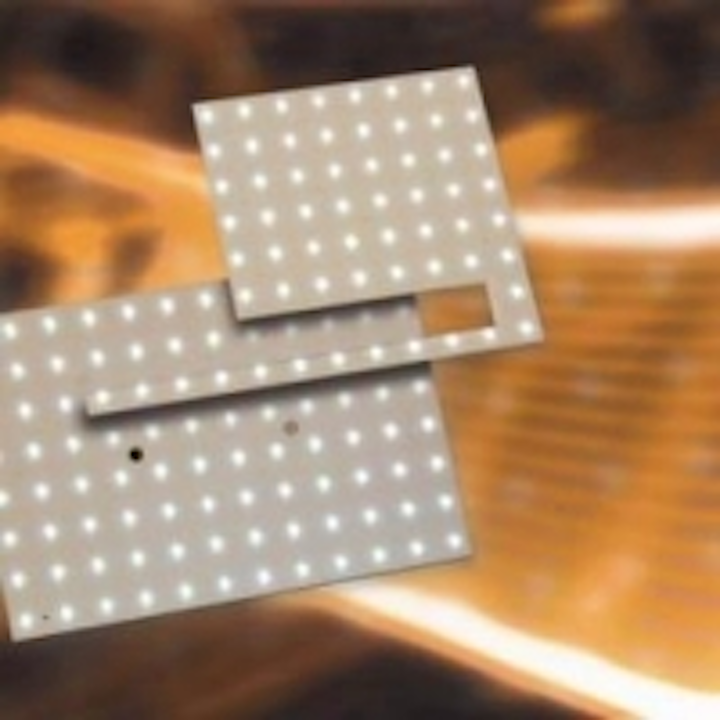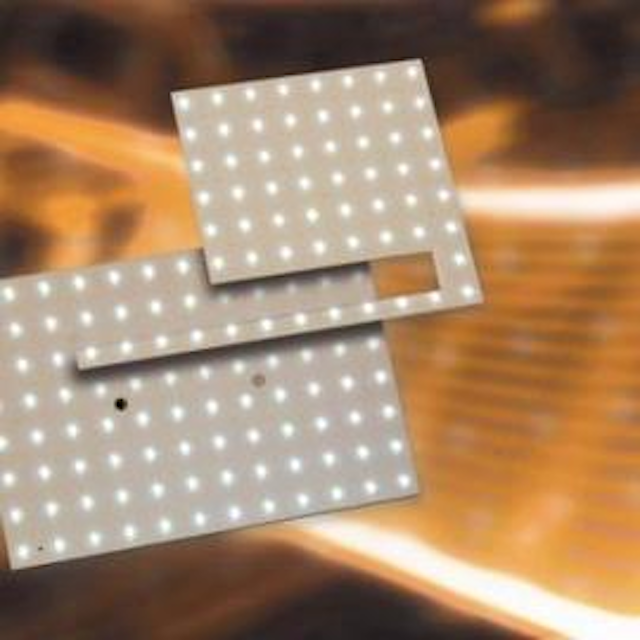 Date Announced: 23 Sep 2008
[Image shows a G-LEC Chimera - a quarter size board shown whole and cut]
While LED video products come in standard frames, buildings come in all sorts of shapes and sizes, with difficult to accommodate doorways, windows and corners. Combining two existing products – LEDs and printed circuit boards – G-LEC's Chimera is the first product to offer absolute flexibility of shape without compromising control over individual LEDs, offering designers enormous possibilities for dramatic graphics and video using an LED video system that can cover large areas or fit the smallest space.
Being launched at PLASA '08, the Chimera system comprises LEDs mounted on printed circuit boards that are designed so that they can be 'cut to fit' while without cutting the power to the LEDs. In two sizes, the standard board can be cut to accommodate small to medium shapes or apertures, making it perfect for large areas, while the smaller version can literally be cut to pieces to fill the smallest gap.
Ideal for museums, interior design, themed spaces and hotel and corporate reception areas, all Chimera installations are custom designed. The first installation is in the BMW Museum in Munich, for which the Chimera system was specifically developed in conjunction with Berlin-based ART+COM.
This project utilises white LEDs on white boards, but the system can be supplied in almost any colourway, with brilliant white or RGB LEDs against a white, black or coloured background.
The Chimera system can be used in the standard board format, or transformed, as in the BMW Museum, into an architectural façade with the addition of panes of sand blasted glass placed in front of the boards. The optimum pixel pitch is determined by the individual client's needs.
Using G-LEC's tried and tested fibre optic signal transmission technology that is well-established with the Phantom frames, the Chimera system includes specific solutions for mounting, concealing the joins between boards and front or rear servicing access.
Video or still images, whether in black and white or full colour, can be emotive and powerful; G-LEC's new Chimera system brings those emotions to life.
Contact
Harmer PR, Lesley Harmer Telephone: +44 (0)20 7580 6334
E-mail:lesley@harmerpr.com
Web Site:www.g-lec.com