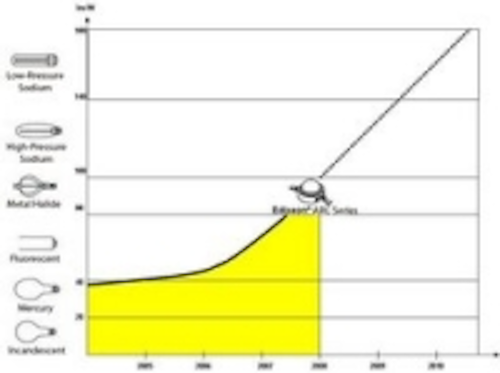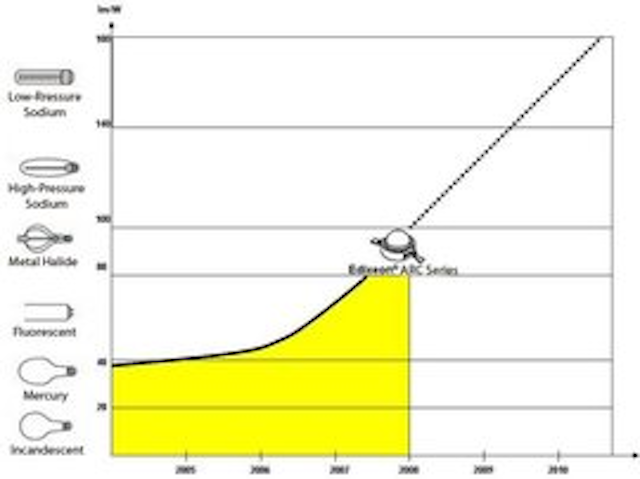 Date Announced: 17 Sep 2008
With the diverse applications of LED, the emerging SSL market also demands for higher luminous flux and efficacy of LED. Edison Opto, a Taiwan based high power LED packaging manufacture, has introduced Edixeon® ARC series, a production-ready, 100lm packaged light source to its high power LED Edixeon® family.
Driven at 350mA, Edixeon® ARC series is the first of its kind to truly achieve luminous efficacy over 100lm/W at cool white LED (CCT: 5,000K~10,000K).
Up to date, traditional light sources have typical luminous efficacy ranging from 10~20lm/W for incandescent bulb, 20~40 lm/W for mercury lamp, 40~80lm/W for fluorescent, 80~100lm/W for metal halide lamp, and 100~180lm/W for high/low pressure sodium lamp (as seen from the graph).
With Edixeon® ARC series, its efficacy has reached to an equivalent level as metal halide lamp, outperforming the light source commonly used in commercial, retail and residential lighting. This further demonstrates the era of solid stage lighting (SSL) replacing traditional light source is the inevitable future.
In compliance to the RoHS directive, Edixeon® ARC series is Pb-free and IR-Reflow compatible. Furthermore it shares the same footprint as other Edixeon® family including Edixeon®, Edixeon® S and Edixeon® K, enabling Edixeon® ARC series to be able to adapt to the equivalent lens module throughout Edixeon® family.
Also available in warm white (CCT: 2,670~3,800K) and neutral white (CCT: 3,800~5,000K) with luminous flux reaching 60lm for warm white and 75lm for neutral white respectively. Edixeon® ARC series is ready for shipment by October.
About Edison Opto
Edison Opto is a leading high power LED manufacturer and a solution provider experienced in optical design and thermal management for the emerging SSL market. With R&D headquarter in Taiwan, production capabilities in Dong Guan, China, as well as distribution network over twenty-six countries, Edison Opto offers a diverse range of high power LED products to worldwide commercial, industrial, retail, and residential markets. For more information, visit www.edison-opto.com.tw
Contact
Jill Hsu Marketing Planning Specialist Edison Opto Corporation Tel +886 2-8227-6996 Ext.8802 Fax +886 2-8227-6997
E-mail:jillhsu@edison-opto.com.tw
Web Site:www.edison-opto.com.tw