MOST Cooperation Presents the Automotive-ready Physical Layer for Ethernet in the Car
Sep 1st, 2008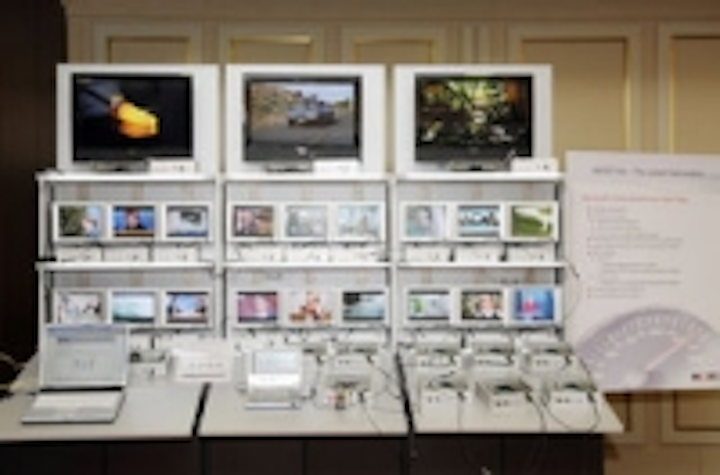 Date Announced: 01 Sep 2008
Karlsruhe (Germany) -– The MOST Cooperation – the organization through which the leading automotive multimedia network Media Oriented Systems Transport (MOST) is standardized – will demonstrate how MOST can be used as an automotive Ethernet physical layer at the MOST Forum exhibition in Stuttgart, Germany.
The multimedia demonstration shows MOST at 150 Mbps bandwidth with high-speed Ethernet packet transport, multi-channel video streaming from HDD as well as isochronous streaming of HDTV and SDTV. The MOST based transport of Ethernet data traffic will be demonstrated at the booth on September 30, 2008, at the Liederhalle Cultural & Congress Center.
In addition to higher bandwidth, MOST150 features an isochronous transport mechanism to support extensive video applications, as well as an Ethernet channel for efficient seamless transport of IP-based packet data. The Ethernet channel can transport unmodified Ethernet frames as specified by IEEE 802.3. This enables software stacks and applications from the consumer and IT domain, where the speed of innovation is much faster, to be seamlessly migrated into the car. TCP/IP stacks or protocols that use TCP/IP can communicate via MOST without modification. Thus, the new generation of MOST provides an automotive-ready physical layer for Ethernet in the car. MOST Specification Rev. 3.0 supports both conventional 16 bit addressing as well as 48 bit addressing using IEEE MAC addresses.
About MOST Technology
MOST (Media Oriented Systems Transport) is a multimedia networking technology optimized for use in cars and other applications. It enables the transport of high Quality of Service audio and video together with packet data and real-time control over a single transmission medium. MOST can use plastic optical fiber or electrical unshielded or shielded twisted pair wire physical layers, that meet automotive environmental requirements. Today MOST is used in over 60 car models as the communication backbone for their information and entertainment equipment.
About MOST Cooperation
The MOST Cooperation is the organization through which MOST Technology is standardized and refined so that it continues to stay abreast of the latest industry requirements. Today it consists of 16 international carmakers and more than 75 key component suppliers. They have joined together to work with the MOST Technology and to contribute to its innovation. The MOST Cooperation is prepared to embrace efforts to further develop and standardize the technology for other industries and to establish the corresponding work structures. The MOST Cooperation was founded in 1998 to standardize MOST Technology as a global standard for multimedia networking. Audi, BMW, Daimler, Harman/Becker and SMSC are its core partners and constitute its Steering Committee.
Contact
Media Contact: Mandy Ahlendorf, hueggenberg gbr Phone +49 8151 555009-11, MOSTCO_PR(at)hueggenberg.com MOST Cooperation · Bannwaldallee 48 · 76185 Karlsruhe Germany Phone +49(0)721-966 50 00 contact(at)mostcooperation.com
E-mail:nina.mueller@hueggenberg.com
Web Site:www.mostcooperation.com