Azerbaijan Republic says yes to Lighthouse LED Screen
Sep 19th, 2008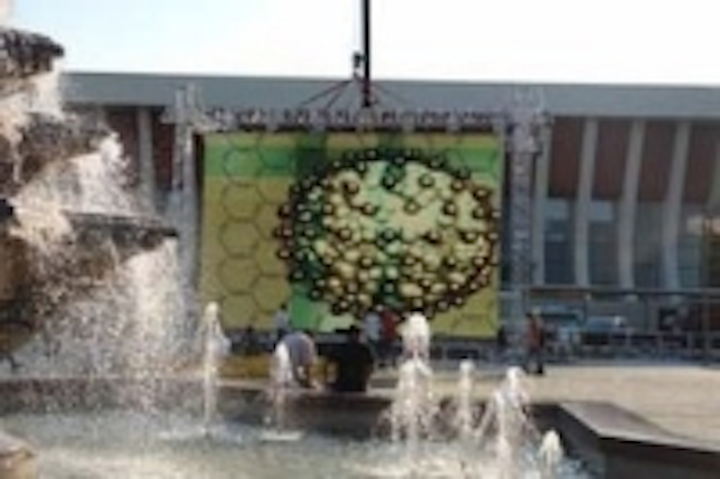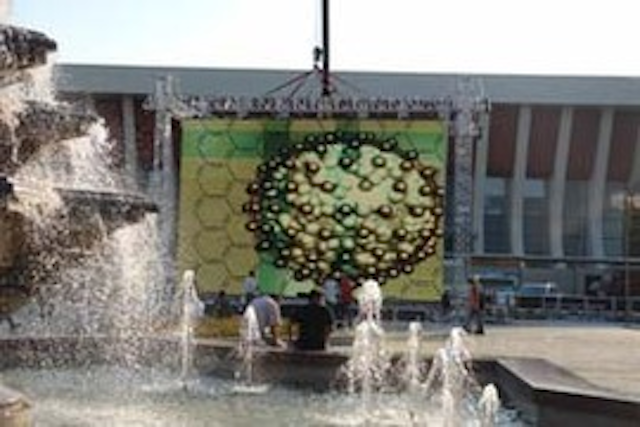 Date Announced: 19 Sep 2008
Italy – 19th September 08 – Following comprehensive evaluation process, the Azerbaijan Republic has ordered 200 panels of Lighthouse R16i/o 16mm LED screen.
Supplied by Lighthouse's partner Provid Systems Limited, based in the Turkey's largest city, Istanbul, and with service offices in the Azerbaijan capital of Baku, the screens will be used at important public and cultural events such as National Days, sports tournaments and other live events.
"The main criteria for this purchase by the Azerbaijan Government were product and service quality," says Provid's Necdet Ercingöz. "The order is being organised in two halves, the first 100 panels were delivered in June this year. These panels have already had their first use as a giant screen measuring 10m (w) by 8m (h) [10 x 9 panels] in Heyder Aliyev Park, Baku's most popular square."
In the park, highlights of Euro 2008 were shown, with the Turkey versus Germany game attracting a huge crowd of people, who enjoyed the action of the tournament. Live footage from AzTV's broadcast of the military parade celebrating the day of the National Army Day was also shown on the same screen at the end of June.
"This was shown in the middle of the day," continues Ercingöz. "The weather was extremely hot and the screen had to cope with very bright, direct sunlight. But the quality of the Lighthouse panels was perfect at all under these extreme conditions and they showed magnificent images."
"It was a very important event for Baku, being the first military parade since 1992. The superior picture quality of the R16i/o both impressed and attracted a large number of Baku citizens."
"The R16i/o panel is particularly suited to this type of application," concludes Roberto Segato, Lighthouse's sales director for Southern Europe, Middle East and Africa (SEMEA) and Russia and the Commonwealth of Independent States (RCIS) regions. "We are proud to be able to supply the Azerbaijan Republic with a product that brings added enjoyment to its citizens."
The second batch of panels was shipped to Azerbaijan in mid August and is destined to be used in future national events.
~END~
Lighthouse Technologies Limited is a leading LED technology developer, manufacturer and global supplier of state-of-the-art LED modular video panels, which can be assembled into large scale video screens for indoor and outdoor use. It also produces a range of creative video solutions that have a multitude of applications.
Specializing in the research and manufacture of LED products, Lighthouse has its own intellectual properties with a remarkable number of active patents worldwide and is committed to remaining the premier creator of intellectual property values.
The company's LED components, panels and complete video systems undergo stringent quality control with power-on, burn-in processes at ISO9001 and ISO14001-certified manufacturing plants.
From the company's inception, Lighthouse products have won numerous international awards, from the prestigious Consumer Product Design Award and the HKITCC Certificate of Merit in Technological Achievement in the 1999 Hong Kong Awards for Industry, to Buzz of the Show award at InfoComm 2004 in Atlanta and 2005 IBC Exhibition Design Award. Most recently, Lighthouse was selected as a Top 100 Global Award Winner by Red Herring Magazine.
Lighthouse operates on a global basis, but knows the importance of understanding its local markets. It has sales offices and technical support teams in the United States, South America, the United Kingdom, Continental Europe, the Greater China and Asia Pacific. For more information, please visit www.lighthouse-tech.com
Contact
Sarah James Gasoline Media
E-mail:sarahj@gasolinemedia.com
Web Site:www.lighthouse-tech.com