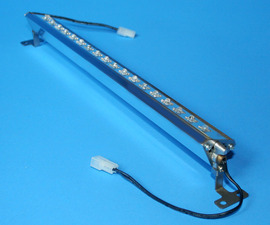 Date Announced: 26 Sep 2008
Light Emitting Designs (www.led-llc.com ), an innovator in LED lighting solutions for the commercial/industrial market, announces three new series of 12v LED linear fixtures now shipping through electrical distribution.
The R, S and SC series include the three key features savvy lighting specialists now expect: 1) lumens above 150 per each 12" run. 2) CRI of 75 or above. 3) Three year warranty. All lights are dimmable on the 12v side.
Available in lengths from 12 to 60 inches, in Day Light or Soft White, from 4 to 16 watts, applications include task lighting, showcase lighting, undercabinet lighting, refrigerator/freezer lighting, and illuminating architectural features.
•"S" (Square) Series: Square (S) Extruded White Powder Coat Aluminum Housing
•"R" (Round) Series: Round (R) Extruded Brushed Aluminum Housing Rotatable to 3600
•"SC" (Showcase) Series: Show Case (SC) Extruded Brushed Aluminum Housing Rotatable to 3600
•Also available: Power Supplies and Link Cables
THE RETROFIT REVOLUTION
"We see a growing momentum toward responsible energy usage—we like to call it the 'Retrofit Revolution,'" said Light Emitting Designs CEO, Tim Taylor. "When you look at true ROI, upfront costs for LED fixtures are easily displaced by savings in long term expense, and our customers understand that. The linear series offers a nice complement to the rest of our product line."
All fixtures offer a green solution for new installations, and an environmentally responsible replacement for existing fluorescents. LEDs last longer, burn cooler, and deliver savings on labor, as well as energy, over time.
ABOUT LIGHT EMITTING DESIGNS
Light Emitting Designs is a company of lighting experts with nearly a century of combined experience, providing "environmental lighting solutions" to the electrical industry throughout the US. The broad product line includes indoor and outdoor LED bulbs, linear lighting fixtures, 2' and 4' T8's, and accessories. www.led-llc.com
Contact
For product sales information, contact: Frank Wysaski, VP Marketing (847) 380- 3544 sales@led-llc.com PR Contact: Natalie Scholberg (815)560-1965; nscholberg@yahoo.com
E-mail:sales@led-llc.com
Web Site:www.led-llc.com